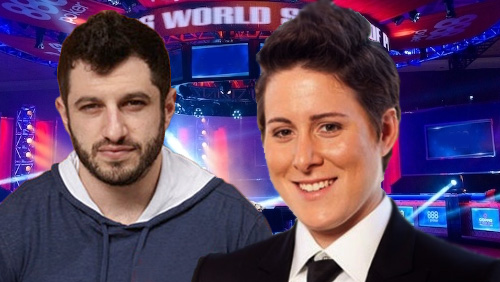 Vanessa Selbst's on again/off again relationship with poker is enough to leave any fan dizzy. She "retired" at the beginning of the year after an alcohol-filled tweet on New Year's Eve, and announced that she would be leaving PokerStars in favor of a hedge fund. A few days later, she announced that wasn't retiring, but that she would no longer be serving as a PokerStars ambassador. Not long after, she was in retirement again, only to be seen taking a seat in a tournament a few days later. It would now appear that she wants to come back—at least for one more visit to the felt.
The three-time WSOP gold bracelet winner who racked up almost $12 million in live poker action took to Twitter (no indication if alcohol was involved) on Wednesday, recalling the "good ol' days" of poker. She tweeted, "ok but seriously, when did it ppl 100% stop 4betting light (preflop OR on flop)? there used to be so many fun dynamics when ranges were [obviously] polarized- now it's like there's a rule if u get raised while holding air u must fold…? seriously is this a thing? seems like a bad thing."
Phil Galfond responded, giving her remarks a virtual head nod. He acknowledged that the game has changed and is more difficult for "feel players" like the two of them are. The two chatted it up for a while, and then Selbst suggested that they should hook up for this year's WSOP Tag Team event.
Galfond seemed to be on board, giving a Twitter nod of approval, so it's possible that the pair will be seen at the tournament. The $1,000 Tag Team event will be held from June 27 to June 29 at the Rio All-Suite Hotel and Casino in Las Vegas.
In 2017, Aditya Sushant and Nipun Java won the event for a little more than $150,000 and their first-ever WSOP gold bracelets. Sushant made the win possible, substituting for Java, who had to be excused for a bathroom call. The pair was in heads-up play against Pablo Mariz and David Guay, with Mariz in control for his team. Sushant, holding A-8 off-suit, called an all-in bet by Mariz, who had scored a set of Queens on the flop. With virtually no way to win, the final handshakes and high fives began. However, a highly improbable runout of Aces on the turn and river secured the victory for the Indian team.
Comments