What has happened to the Arizona Diamondbacks? They tied an MLB record with nine straight series wins to open the season, becoming the first National League team since the 1907 Chicago Cubs to accomplish that; the record-setting 2001 Seattle Mariners did it in the American League.
Odds courtesy of OddsShark.com
Following a 12-inning victory at the Los Angeles Dodgers on May 8, the Diamondbacks still hadn't lost a series. They had the best record in the National League easily at 24-11 and led the NL West by 3.5 games. However, Arizona has won just one game since then and has coughed up the division lead to the Colorado Rockies.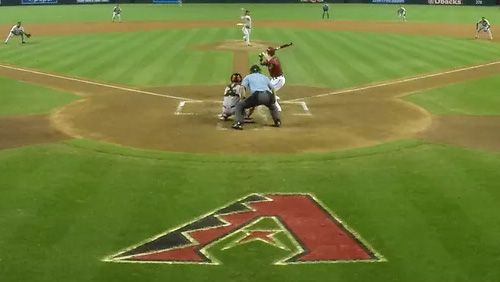 Still, the Diamondbacks remain the +130 favorites to win the NL West, although those odds are much different from a few weeks ago. The Snakes' slump has brought the five-time defending champion Dodgers (+300) very much back into play to win the West again. They were nine games back on May 8. The Rockies are +333 to win the West for the first time ever.
The biggest division favorites are the Cleveland Indians at -500 to win the AL Central for a third straight year. That's not exactly the oddsmakers having so much faith in the Indians because they have underachieved by hovering around .500. It's because the rest of the AL Central has no other team near the break-even mark.
It's clearly just a two-team race in the AL East between the New York Yankees (-160) and Boston Red Sox (+110) as they have the two best records in the majors as of this writing. No other team in the AL East is within single digits of the division lead or above .500.
The Houston Astros are -450 to repeat in the AL West but are getting tougher-than-expected challenges from the Los Angeles Angels (+550) and Seattle Mariners (+600), who have the longest playoff drought in the majors (last in 2001). Seattle's division chances recently took a big hit when All-Star second baseman Robinson Cano was suspended 80 games for a positive drug test. Were the Mariners to make the playoffs, Cano would be ineligible for postseason play as part of the punishment.
In the NL Central, the Milwaukee Brewers (+170) have surpassed the two-time champion Chicago Cubs (+180) as the favorites, with the St. Louis Cardinals (+235) and surprising Pittsburgh Pirates (+700) also in the mix.
Finally, the Washington Nationals are -120 in the NL East. They have been a different team since an 11-16 start. Do the first-place Atlanta Braves (+265) have staying power or are they too young? The Philadelphia Phillies (+375) also are a bit ahead of schedule. The New York Mets (+700) could be a factor if they can ever get healthy.
Comments