Former PokerStars ambassador, Eugene Katchalov, shares an update with his fans showing a keen focus on using his precious time to focus on his esports startup QLASH, referring to himself as a 'recreational poker player trying to have fun.'
The sun is out. The man with half of his face melted away sticks a cigarette stub in his mouth, and lights, burning his nasal hairs in the process.
The cold weather gear is gone, replaced by skimpy shorts and tops; women are tugging at hems making me wonder why they put them on in the first place. Men show off body art for the first time all year.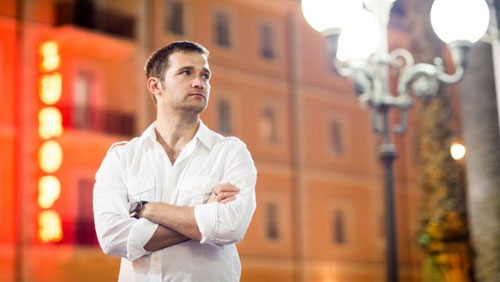 The melted man gets to his feet, hobbled gait in waiting. Joanna fails in her attempt to create a creamy leaf-like symbol in another Coconut Latte, and I wonder why she chose to leave Colombia for Cardiff.
The sun changes everything but the mind.
I wonder if any of these people think about the future. I'm not talking about brooding. I'm talking about a plan, man.
In Montenegro, I sat opposite 13 of the world's greatest players, and none of them had a plan. It seemed to be a core trait of a successful high stakes poker player. And yet none of it made sense. I couldn't separate the bull from the shit no matter how many red napkins I used to blow my nose.
And then I read Eugene Katchalov's latest post on medium. A calm ensued. A realisation that all was well in the world. I want one of his bones for my stew. Eugene Katchalov is a man with a plan.
Eugene Katchalov: The Man With a Plan 
In June 2016, Katchalov left his role as PokerStars Team Pro. During his tenure, he won $9m playing live tournaments including a Bellagio Cup, European Poker Tour (EPT) $100k Super High Roller, World Series of Poker (WSOP) bracelet and a World Poker Tour (WPT) title.
Speaking on Twitter at the time of the split, Katchalov said he planned to continue playing poker and growing the game in his native Ukraine where he remains the All-Time Money Leader on Hendon Mob.
Things have changed.
When I worked on the EPT, Katchalov and Bertrand 'ElkY' Grospellier were like cufflinks and shirts. In 2012, ElkY took his cufflinks to Seoul, Korea where he would experience a Starcraft event for the first time. Writing on Linkedin Katchalov described his experience as thus: 
"I was overtaken with the amount of energy in the room. In many ways it seemed there was more of it than in any other normal sporting events I've been to before this. I was hooked." 
Four years later, free from the Big Brother House vibe of PokerStars corporate responsibility, Katchalov teamed up with his fellow teammate Luca Pagano to create an esports organisation known as QLASH.
The pair started out with a focus on Hearthstone (the closest esports to poker), signed their first team, and off they went. One year later, and QLASH has 30 esports athletes under contract, and employs 25 people.
"I never really saw myself as being a professional poker player for the rest of my life," Katchalov wrote. 
It was the answer to a question few could answer in Montenegro.
Katchalov wrote fondly of his time with PokerStars crediting them as the influencer when it comes to how he and Pagano choose to run QLASH, and he's not finished with poker.
"My love for poker is still as strong as it has always been, but I've decided to try my hand at having a positive influence on gaming as a whole from the business side of things." 
But when you see him play, it won't be in the capacity of 'professional.' As Katchalov notes, when you've been away from the game as long as he has, you lose ground on the 'meta' side of things.
Katchalov plans to poke his nose into the WSOP this summer, but purely as a fish testing his luck in the game.
It's the only part of the whole thing I didn't believe.
I do not doubt that during the summer, this 'recreational player having fun' has a plan to win his second WSOP bracelet. Once a winner, always a winner, with or without the chicken dinner.