1) When designing a new game, where do you start? Is it with the theme/design or with the maths/mechanics? Does it differ from game to game?
It does differ from game to game, although we follow some standard procedures for all new projects, which will start with a draft of the main specifications for the game.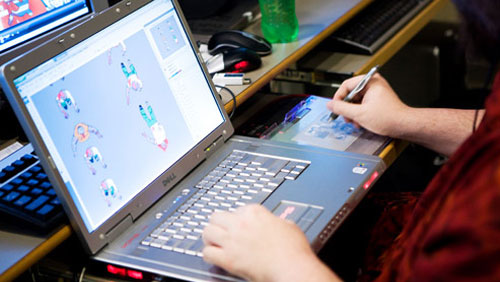 If we are looking to make a brand new game, we will generally start with a theme, the features and some suitable design ideas. The maths will just be a general overview at this stage as we will dive much deeper into this later in the process.
Sometimes we look to re-skin popular games, or make only small changes, and in this case we already have a great starting point with the maths and can concentrate more on new themes and designs.
2) Briefly, can you explain the key steps you go through when taking a game from concept to launch? Do you have different processes to your rivals? What makes your approach unique?
Once an idea is fleshed out by the Games Team, and the specifications agreed, we will start on the basic maths profile which can be played via a simulator to give us a general feel for the game.
When we are satisfied the game mechanics are sound, the design team will begin creating the graphics for the game. Once around 50% of the design is complete the assets are passed on to the developers to begin developing the game.
As development progresses, we play the game and constantly feedback any changes to the design and maths teams. At the point when we are happy the game feels right from a design and maths point of view the sounds will be added.
Once a game is ready for launch we will present full details to our customers and discuss possible promotions and positioning to push the game as strongly as possible.
I am not sure our process is unique but it works well for us and we feel we have in place a nicely streamlined and highly effective production process.
3) How many people are involved in the process from start to finish? If a large team, why? If a small team, why? What are the advantages of this set-up?
The size of the team on any specific game will often depend on the complexity of the project and how quickly we need to get it to market.
However, we do need different teams to work on different areas of the game and this will always result in a larger number of people having some input into a new game.
Beginning and ending with the Games Team, any individual project will also go through designers, developers, mathematicians, translators and testers among others.
The whole project is a multi-layered process and everyone plays a vital part at various stages to bring a new game to release.
4) What are the biggest challenges when designing and developing a game? How do you overcome these?
Like all other developers, our top priority is to produce engaging and enjoyable games which will entertain our players and keep them coming back for more.
Finding a perfect balance between the look and feel of a game combined with a really strong maths profile is always a challenge but one which we love to tackle.
Most projects will encounter some problems along the way and planning ahead is vital. We always start out with a strong idea of what we want to achieve and make sure everybody is fully aware of these expectations.
Sometimes we like to push the boundaries on a new game and, while this can offer its own challenges, the results only make it extra satisfying when the project is successfully completed.
5) What tools are required to build an online slot game? How has the technology changed in recent years? Has this made it easier to create and launch games?
We have slot simulators which allow us to test out game concepts at an early stage by building prototypes and spinning them at a basic level. This allows us to play around with a game before we fully commit to its development.
Once we have decided to go ahead with a game there is no fast-track to production – we still have to go through all the stages to get the game to the level we insist on before final polishing.
Technology has moved firmly away from desktop and onto mobile in recent years so everything we do is geared towards mobile first to give our users the best possible experience.
We also have better animation tools and while producing new games may not feel any easier, the results we can achieve now are getting more and more impressive all the time.
6) What trends can we expect in 2018 when it comes to the theme and maths/mechanics of slots – what are players getting excited about?
Slot players have never had it so good, with numerous new games being released every week and providers fighting for good positioning with the big online casinos.
The choice can be overwhelming for new players but the ability to find something that suits your style makes this an exciting time.
iSoftBet have always had a soft spot for classic style games and have noticed traditional 3-reel games making a comeback recently – we hope to be able to tap further into that market in the next 12 months.
There has also been a lot of love for much more volatile games over the last year or so and we think it is important to offer a wide spectrum of maths model to suit all markets.
7) How do you approach compliance? What changes do you have to make to your games to ensure they meet the rules and regulations of each market they are offered in?
Our games are certified in many jurisdictions and each market has their own standards that licensees and software providers need to adhere to.
We always ensure that our games meet these regulations for each market we approach for them and where necessary we will make changes if the regulations demand this.
For all new games, we use accredited test labs who double check everything and will only award certifications once we have met and satisfied all the standards.
Having such a diverse portfolio and a huge range of markets puts us in a strong position and we are very good at producing games which should not give our compliance department too many headaches.
For media Enquiries:
Sarah Blackburn, GameOn
[email protected]
For new business enquiries
Michael Probert
[email protected]
Comments