K8 are proud to announce that they will sponsor the 2018 Supreme Pool Series. The K8 sponsorship deal covers all five events that take place between May and December, and includes title sponsorship of the K8.com Classic, which runs from September 28 until September 30.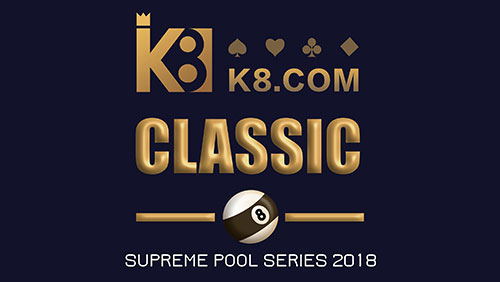 K8 is one of the world's leading operators in the gambling industry. The UK operation was started operating in 2015 and since then have developed and grown their online betting and casino platform into one of the top UK brands. K8 are excited to be sponsoring the Supreme Pool Series and look forward to attending the upcoming events.
The event itself will attract many fantastic pool players, and with a prize pot of £16,000 for every one of the events, plus a bonus jackpot also up for grabs in the final, interest in the event is sure to be high. A maximum of 96 players will be allowed to enter the series, and they will begin their quest for the final in the Jason Owen Open, which takes place in May. With many of the best pool players from around the world invited to play in this event, competition is expected to be tough.
The last places in the Grand Final will be decided in the K8.com Classic, which is the final event before the Grand Final, and one that is sure to attract a lot of interest. Those who are successful will make it through to the final, which will take place between November 30 and December 2 and has a prize of £40,000 to the winner.
The race to crown the winner of the Supreme Pool Series will begin shortly. With events stretching from May to December the action will spread over a big period of time. Five events will create the series, with the K8.com Classic being the last event where players can qualify for the Grand Final.
Comments