Week 29 of the English Premier League reaches its conclusion with Man Utd coming back from a two-goal deficit to beat Crystal Palace at Selhurst Park.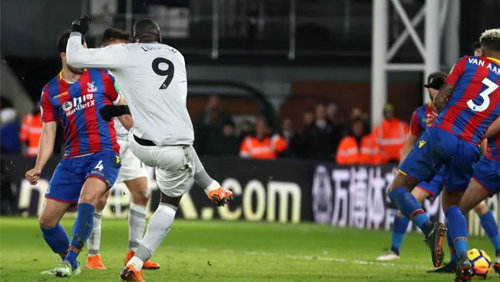 Back in the day when I thought the best way to secure my family's financial future was to put it all on red, I used to make a mint betting on Man Utd to win after they went one or two goals down.
It's a good job I said goodbye to the bookies at the same time Sir Alex Ferguson said goodbye to the cat licking its balls inside the dressing room.
Many things are missing from the team that used to suckle on Ferguson's nipples, but two of them returned to a United side looking to retake their second place spot from arch-rivals Liverpool when they visited Selhurst Park
– the grit to come back from behind, and to score late, late goals.
It should have been a foregone conclusion. United hadn't lost against Palace in their previous 19 league games. But the Eagles got their claws into the shoulders of the Red Devils from the get-go. United was well off the pace in the first half, and Palace went in for a hot cup of Bovril a goal to the good thanks to an Andros Townsend goal.
United had lost their previous 28 games after being behind at half time, and that statistic looked like lengthening after Jeffrey Schlupp took a quick free-kick to send Patrick van Aanholt scurrying towards goal, and the defender finished like a world-class striker.
Two-nil.
United hadn't come back from a two-goal deficit since 2013. They needed a swift response to clear the cobwebs, and they got it seven minutes later when Chris Smalling rose at the far post to head home a cross from Antonio Valencia.
United controlled the ball from that point onward as Palace sunk further and further back into defensive positions. Then in the 76th minute, a brilliant United move saw Alexis Sanchez hit the crossbar, and Romelu Lukaku picked up the rebound to score, shooting through five Palace defenders.
And then, with time running out, the ball bounced in front of Nemanja Matic 25-yards from goal, and the giant Serb smashed the ball into the back of the net to give United the win. It was his first Premier League goal since his move from Chelsea, and United's first beyond the 90-minute mark since August 2016.
The defeat leaves Palace in the bottom three. A win would have seen them climb to 13th place showing how tight things are at the bottom. Once again, Roy Hodgson's side showed how difficult they find it to break out of their defensive posture without Wilfried Zaha in the team. The Eagles have now lost all nine matches without the former United winger. Palace showed in the first half that they could get out of this mess, but this is their sixth game without a win.
United face Liverpool on Saturday afternoon.
Here are the rest of the results in full.
Results in Full
Burnley 2 v 1 Everton
Leicester 1 v 1 Bournemouth
Swansea 4 v1. West Ham
Spurs 2 v 0 Huddersfield
Southampton 0 v 0 Stoke
Watford 1 v 0 West Brom
Liverpool 2 v 0 Newcastle
Man City 1 v 0 Chelsea
Brighton 2 v 1 Arsenal
Crystal Palace 2 v 3 Man Utd
Premier League Table
1. Man City – 78
2. Man Utd – 62
3. Liverpool – 60
4. Spurs – 58
5. Chelsea – 53
6. Arsenal – 45
7. Burnley – 40
8. Leicester – 37
9. Watford – 36
10. Brighton – 34
11. Everton – 34
12. Bournemouth – 33
13. Swansea – 30
14. West Ham – 30
15. Huddersfield – 30
16. Newcastle – 29
17. Southampton – 28
18. Crystal Palace – 27
19. Stoke – 27
20. West Brom – 20
Comments