Limassol, February 1, 2018 – PropellerAds, a leading global advertising network, has announced a launch of a new ad format on its Self-Serve Platform as well as for its managed clients. Push Notifications are intended for both desktop and mobile devices. New release underscores company's unique ability to modernize and expand the scope online advertising opportunities.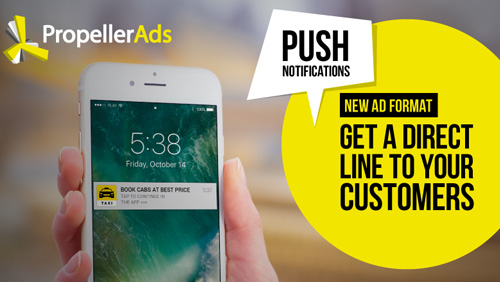 Previously available solely to app owners, Push Notifications service now allows advertisers to take advantage of the format, giving additional exposure beyond their limited existing audience. The company states that their Push Notifications subscriber database has now reached a 60 million users mark, and continues to grow dynamically.
The service at its core is a way for brands to adopt efficient direct communication with a customer. Closed beta testing results revealed that Push Notifications outperform conventional ad formats with an average сlick through rate of 15%.
Furthermore, this ad format equips eCommerce professionals and affiliate marketers with an essential tool for connecting with the audience even when the user is not browsing the website or interacting with an app. New PropellerAds technology empowers advertisers to deliver time-sensitive marketing messages to the right customers and in a timely manner, providing exceptional online visibility.
The new service also allows to entirely eliminate bot traffic as the user knowingly agrees to receive Push Notifications, therefore, ensures authentic audiences for advertising campaigns.
The company expresses its full confidence that the Push Notifications service will find an ever-growing number of uses and applications by advertisers worldwide, starting from acquisition campaigns and ending with advanced retention strategies.
"You just can't overstate how important the mobile market is for advertisers, and the data clearly demonstrates the growing importance of mobile services that become an integral part of business' overall marketing strategy. Our clients demand flexible and customer-friendly tools, and as a company, we aim to simplify marketing communications and make them more productive. I'm certain, Push Notifications can fill this gap in the market," comments Irina Sandra Razvodova, Head of Sales at PropellerAds.
Push Notifications are now available to the public, and the feature can be accessed from the "Campaigns" tab on advertiser's self-serve platform, and directly through your Account Manager.
About PropellerAds
PropellerAds is an internet media company that is sharply focused on delivering the easiest, most effective, and reliable global digital advertising platform. Founded in 2011, the company continues to expand the range of its services, offering multi-channel advertising solutions for display, desktop, video, mobile, and in-app.
If you would like more information about this topic, please contact PropellerAds Marketing & Communications Manager, Mari Yash at [email protected]
Contact: Kira Vessiari
Telephone: +35725281664
Email: [email protected]
Website: https://propellerads.com
Comments