3: Barrels of a World Series of Poker vintage including victories in Circuit events in Morocco and Tunica, and the 2018 Vegas structure sheets are out.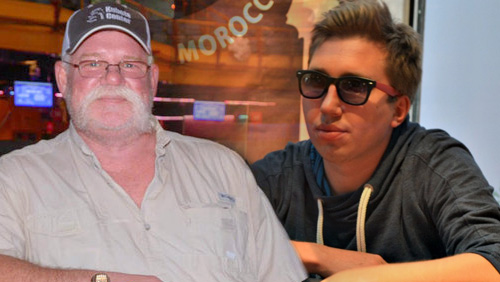 Some people play for the money.
Some prefer the title.
But I've never met someone who plays for the soul.
Vladimir Shabalin has been playing poker for eight years. He's the type of guy whose clock strikes the hour of happiness 24-hours a day. And he loves his poker.
The Russian travelled to the Casino de Marrakech hoping to win a World Series of Poker Circuit (WSOPC) gold ring. He won one. He nearly won two.
After bubbling the final table of the €1,800 buy-in WSOPC High Roller (an event that attracted 194 entrants), Shabalin arrived in the €1,350 Main Event with a natural dose of opium running through his veins.
486 entrants secured a €118,182 first prize, and after a gruelling 14-hour slog, Shabalin defeated the French live tour pro Rony Halimi in heads-up action. The Russian entered the duel with a 4:1 chip lead and Halimi never had a look-in. To be fair to the Frenchman the only time he got his chips in the middle he had the best hand AQ<K3, only for Shabalin to hit a runner-runner straight to secure the ring and book a flight to the season-ending WSOPC Global Casino Championships.
"I play online," Shabalin told reporters after his win, "But the game has no soul."
One thing you will find in the Casino de Marrakech is plenty of soul.
Final Table Results
1. Vladimir Shabalin – €114,367
2. Rony Halimi – €78,309
3.. Joseph Nassar – €55,872
4. Unknown – €40,128
5. Unknown – €30,448
6. Mohamed Jhider – #23,662
7. Unknown – €18,736
8. Polo Santoni – €14,777
9. Nicolas Noguera – €11,874
Sam Washburn Wins the WSOPC Main Event in Tunica
There was plenty of soul on the final table of the WSOPC Horseshoe Tunica Main Event.
What a final table.
Between them, Scott Stewart, Kyle Cartwright, Jake Bazeley and Nick Pupillo brought 15 WSOPC gold rings, a bracelet and over $4m in WSOP earnings to the table.
But despite his zero WSOP cash record Sam Washburn eats poker memories for a living.
"I wasn't intimidated," Washburn told reporters after his unlikely win. "I have played with a lot of pros in Oklahoma cash games throughout the years."
The event attracted 597 entrants, creating a prize pool of close to $900,000.
The final two players were Washburn and Stewart with the latter enjoying a 3.5:1 cushion. Washburn doubled on the first hand (AK>KQ), but AK was no good for Stewart when he needed it most – the pair getting it in for 110 big blinds with Stewart's AK up against the JT of Washburn and the latter hit a straight. The hand left Stewart with chip dust. Washburn hoovered it up not long after.
To compound the issue for Stewart, he finished third in this event last year. I guess that makes him a lock for the next Horseshoe Tunica Main Event ring. Stewart didn't leave empty-handed. He will be joining Washburn in the Global Casino Championships after winning the Horseshoe Tunica Casino Championship honours.
Final Table
1. Sam Washburn – $188,068
2. Scott Stewart – $116,316
3. Henry Nguyen – $85,055
4. James Naifeh – $63,115
5. Kyle Cartwright – $47,488
6. Jake Bazeley – $36,233
7. Gil George – $28,011
8. Nick Pupillo – $21,958
9. Paul Belken – $17,444
The 49th Annual World Series of Poker Structure Sheets Are Out
We knew there was going to be a record 78-events.
We knew the Main Event was making an earlier appearance.
We knew the Big One for One Drop was the final event.
Now we know what the structure sheets are for the feast of fun.
Click here to get your fill.
Comments