ICE VOX
ICE VOX stands for Clarion Gaming's knowledge exchange and educational brand and it comes in the form of 9 mini-conferences taking place between Monday, February 5th and Wednesday, February 7th at the ExCeL London.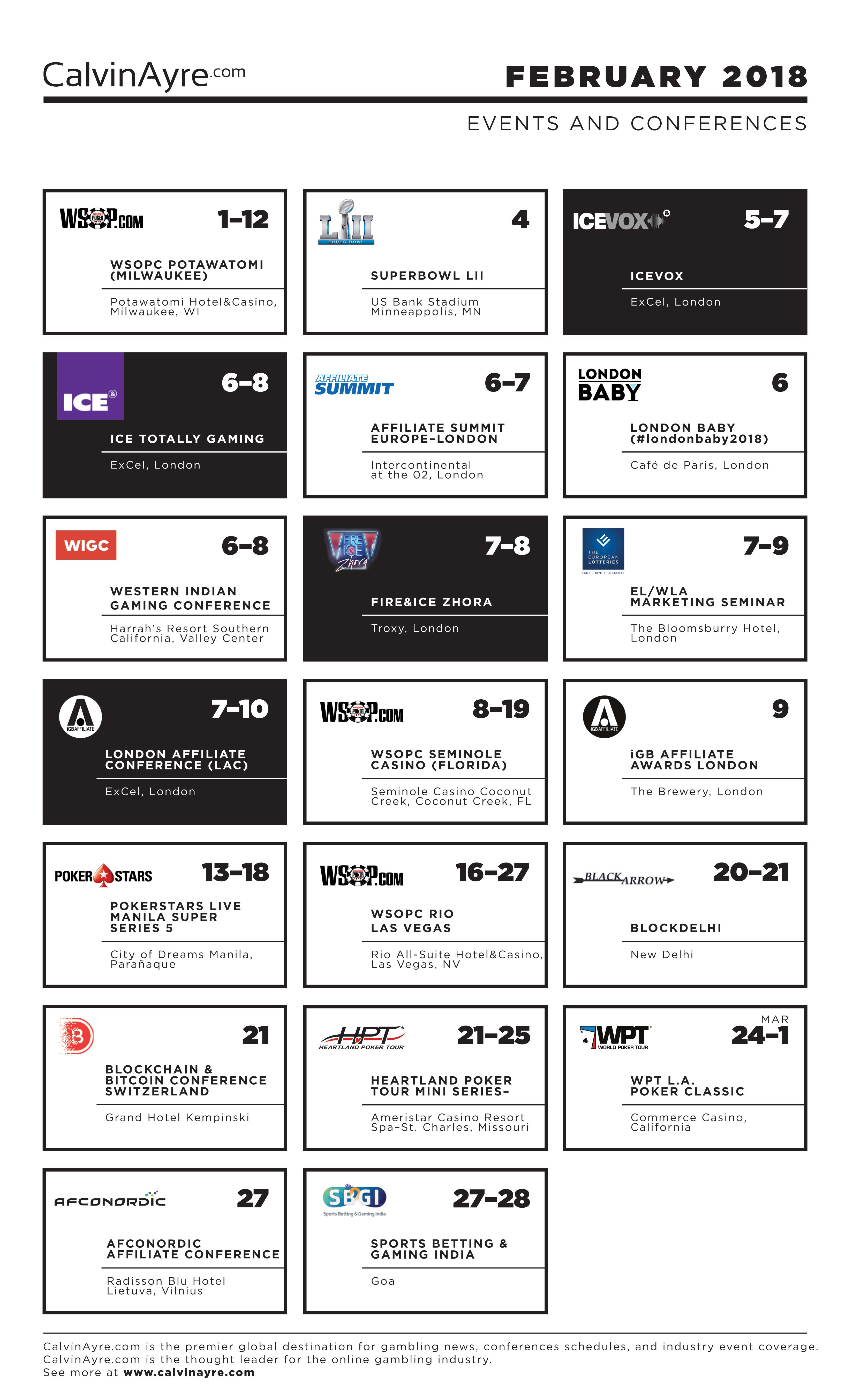 Overlapping with ICE Totally Gaming's enormous expo floor for two of three days, ICE VOX's 9 tracks include The International Casino Conference, World Regulatory Briefing, Data Science & Personalization, eSports, Game Design & Development, Blockchain, Cybercrime & Security, Modernizing Lotteries and Sports Betting USA.
Pricing varies based on what conferences and what days delegates wish to attend, visit ICE Totally Gaming's website for more information.
What: ICE VOX
When: February 5-7, 2018
Where: ExCeL London
Register: Online
ICE Totally Gaming 
With its enormous expo floor open from Tuesday, February 6th until Thursday, February 8, ICE Totally Gaming is the most international gambling event in existence with over 30,000 attendees and 150 countries represented last year.
In addition to an absolutely buzzing expo full of the latest innovations, product launches, celeb appearances and more, ICE Totally Gaming includes a selection of seminars, Pitch ICE, Totally Gaming Academy, a number of official and private networking events and the list goes on.
What: ICE Totally Gaming
When: February 6-8, 2018
Where: ExCeL London
Register: Online
Fire & Ice Zhora
Fire & Ice, produced and directed by Lyceum Media, is the best party of the year dedicated to the online gambling industry and beyond.  This year's theme has been revealed as "Zhora", a theme that will be represented throughout the mind-blowing stage acts (some of them famous this year!) and costumes.
According to Michael Caselli, co-producer of Fire & Ice, "'Zhora' is a depiction of the future (circa 2050) as imagined from the 1980s. In this non-internet world, Zhora asks what will the future hold, and answers it without the benefit of the past 35 years of technological progression".
Serving as the perfect treat for clients, VIP tables and sponsorships are snapped up quickly, but there are general admission tickets available and an official dinner (includes guaranteed entry) for those who find themselves without an invite.
What: Fire & Ice Zhora
When: February 7, 2018
Where: Troxy, London
Tickets: Collect from iGaming Business ICE Stand
London Affiliate Conference (LAC)
The LAC is the largest event of the year dedicated to the online gambling affiliate industry with over 5,000 attendees expected.  For the first time ever, the first day of LAC will overlap with the third day of ICE Totally Gaming's expo, hopefully encouraging even more action at LAC seeing as the two events are taking place at the same venue.
In addition to hosting a lively expo floor full of affiliate program booths, as always, LAC offers several conference tracks on both days, addressing key topics such as SEO, Blockchain, marketing strategy, compliance and more.  Official parties include opening drinks, the LAC Day 1 Party, iGB Affiliate Awards and a Saturday wind-down session.
What: LAC
When: February 8-9, 2018
Where: ExCeL London
Register: Online