Week 20 of the English Premier League sees Bournemouth drop into the bottom three after a controversial draw against West Ham, and Man Utd fail to beat Burnley at Old Trafford.  
Bournemouth 3 v 3 West Ham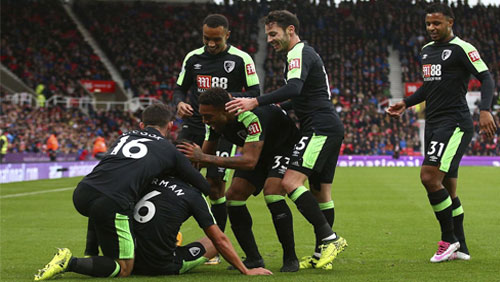 Eddie Howe has received a lot of praise since arriving in the Premier League – even touted as a potential England manager – but I stick by my Clint Eastwood size guns, his board will fire him before the end of the season.
Bournemouth fell into the bottom three after a 3-3 draw against fellow strugglers West Ham, and they were lucky to get the point. James Collins opened the scoring for the visitors in the seventh minute after a cute near-post header from a corner. Dan Gosling equalised 15-minutes before the break, cleaning up after West Ham failed to clear a free-kick.
The Cherries were in charge – 26 attempts on goal show that -, and they retook the lead when Nathan Ake scored his first goal in a year. It looked likely that Bournemouth would hold on to that lead and move above West Ham in the table until Asmir Begovic decided it was a good day to have a mare.
With nine minutes to go, and all the time in the world, Begovic slipped when attempting to clear the ball, and Marko Arnautovic stepped into the fray to slide the ball into an empty net. And then the potential killer when Begovic spilt Javier Hernandez's strike allowing the Austrian to score his second of the game.
It was a fantastic comeback for The Hammers, a rare moment of magic since the Moyes era began, but referee Bobby Madley decided to poke his nose in, when three-minutes into injury time, he allowed a goal to stand that should never have stood.
Bournemouth floated the ball into the box, Nathan Ake rose highest to header the ball goalward, only for Callum Wilson to brush the ball into the net with his arm from an offside position. It was an avoidable mistake with the use of instant replay technology, and one that could end up relegating West Ham given how tight it is at that end of the table.
Bournemouth has now drawn four and lost four in their last eight outings. West Ham is only one place better than before Moyes began.
Man Utd 2 v 2 Burnley 
You can get 50/1 for Man Utd to win the title after Jose Mourinho's side drew for the second successive league game. You get that 'what's the point?' vibe at United ever since Bristol City sorted them out last week.
Yes, they had 75% of the possession in the second half, but by that time they were 2-0 down thanks to a third-minute Ashley Barnes goal, and a beautiful free-kick from Steven Defour. The Reds had 23 shots on goal, 14-fewer than last year's goalless draw (Burnley must have a Jedi like force protecting the net), and it was left to the sparkling Jesse Lingard to make up the difference.
Mourinho began with Zlatan Ibrahimovic and Romelu Lukaku up front. And while that pairing may look good on an Xbox it looked cumbersome and ineffective in real life. Lingard came on to add a little liveliness to proceedings, and he certainly did that.
His first goal was magnificent, back-heeling an Ashley Young daisy cutter beyond the outstretched arm of the Burnley keeper, and he snatched a point a minute into injury time with an instinctive flick of the boot as United poured men forward.
But 2-2 is not good enough.
They needed three points, and for the second game on the bounce, they failed. City added three-points to their commanding lead with a victory over Bournemouth in midweek, expect them to double that with a win over Newcastle tomorrow, and if that happens, we might as well call this whole thing off, and replace Match of the Day with a wildlife program or something.
Here are the rest of the Boxing Day results:
Results in Full
Spurs 5 v 2 Southampton
Watford 2 v 1 Leicester
West Brom 0 v 0 Everton
Chelsea 2 v 0 Brighton
Bournemouth 3 v 3 West Ham
Man Utd 2 v 2 Burnley
Huddersfield 1 v 1 Stoke
Liverpool 5 v 0 Swansea
To Be Played (Wed, 27 Dec)
Newcastle v Man City
Crystal Palace v Arsenal
Premier League Table
1. Man City – 55
2. Man Utd – 43
3. Chelsea – 42
4. Liverpool – 38
5. Spurs – 37
6. Arsenal – 34
7. Burnley – 33
8. Leicester – 27
9. Everton – 27
10. Watford – 25
11. Huddersfield – 23
12. Brighton – 21
13. Stoke – 20
14. Southampton – 19
15. Newcastle – 18
16. Crystal Palace – 18
17. West Ham – 18
18. Bournemouth – 17
19. West Brom – 15
20. Swansea – 13
Premier League Winning Odds (Courtesy of Bodog)
Man City 1/100
Man Utd 50/1
Premier League Relegation Odds
Swansea 1/6
West Brom 10/11
Bournemouth 2/1
Brighton 5/2
Newcastle 5/2
Huddersfield 7/2
Crystal Palace 4/1
Stoke 4/1
West Ham 4/1