Week 18 of the English Premier League floats into the ether after Everton continue their impressive climb up the table with a 3-1 win at home against bottom of the table Swansea.
Unless you are part of the Goodison Park furniture, it's difficult to understand why Ronald Koeman failed to make Everton a Champions League contender after spending so lavishly in the summer. Fortunately, Sam Allardyce revealed the truth during the post-match analysis of Everton's victory over Swansea last night.
"From a tactical point of view, I've simplified the game. And I'm man-managing the players," a confident looking Allardyce told reporters. 
Translated that means Koeman over-complicated things, and big-timed the players.
Everton's captain, Wayne Rooney, echoed his gaffer's sentiments when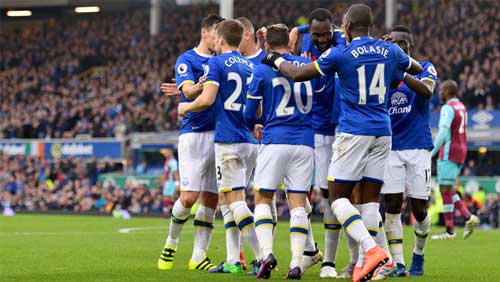 he said his side had gone back to basics. Don't you just love these hackneyed football sayings that mean an incredible amount of bollocks.
Back to basics?
To be fair, a back-to-basics Sunday League team could have beaten Swansea at home. The Welsh side arrived at Goodison Park having lost 18-times on their travels in the past season and 18 games, more than any other club.
Everton, on the other hand, were in fine fettle winning four of their last five, drawing the other, and with a rich vein of confidence oozing through the team.
It was a woeful start for Swansea, who lost Wilfried Bony due to injury within the first four minutes, but they surprised everyone in the crowd by taking the lead on 35. A corner flew into the box from the right, and Leroy Fer arrived unmarked at the far stick to score.
Then with first-half time evaporating Everton was awarded a soft penalty when an innocuous challenge sent Aaron Lennon sprawling into the dirt. Wayne Rooney took the kick, missed, but Dominic Calvert-Lewin tucked in the rebound.
"I always put a bit of top spin on the ball when I take penalties so someone can follow up," said Rooney. 
Yeah, we believe you, Wayne.
Going into the half-time break a goal down, instead of a goal to the good, was a tough one for Swansea. Imagine a Turkey gaining consciousness during a stroll around a shopping mall at Christmas, and you get the picture. And with Everton securing 12-points from losing positions this season, more than any other club, Swansea was always going to get stuffed from that point on.
And who do you think got the killer goal?
Gylffi Sigurdsson of course.
How often do players return to their old clubs and smash a goal or two past them? This one was a screamer, as the Icelandic star cut in from the left and unleashed a thunderbolt from his right foot.
Swansea soldiered on. They were industrious, hard-working, but with 20-minutes left on the clock, a mistake by the referee ended things. Jonjoe Kenney was adjudged to have been brought down inside the box (it was outside), and Rooney had the confidence to rectify his mistake by scoring at the second time of asking.
The win sees Everton rise to ninth, quite remarkable when you consider how wretched they were under Koeman. Their 13-point haul in five games is one more than the previous 13 games.
Back to basics.
Results in Full
Leicester 0 v 3 Crystal Palace
Arsenal 1 v 0 Newcastle
Watford 1 v 4 Huddersfield
Brighton 0 v 0 Burnley
Chelsea 1 v 0 Southampton
Stoke 0 v 3 West Ham
Man City 4 v 1 Spurs
West Brom 1 v 2 Man Utd
Bournemouth 0 v 4 Liverpool
Everton 3 v 1 Swansea
Premier League Table
1. Man City – 52
2. Man Utd – 41
3. Chelsea – 38
4. Liverpool – 34
5. Arsenal – 33
6. Burnley – 32
7. Spurs – 31
8. Leicester – 26
9. Everton – 25
10. Watford – 22
11. Huddersfield – 21
12. Southampton – 18
13. Brighton – 18
14. Crystal Palace – 17
15. West Ham – 17
16. Bournemouth – 16
17. Stoke – 16
18. Newcastle – 15
19. West Brom – 14
20. Swansea – 12
Premier League Winning Odds (Courtesy of Bodog)
Man City 1/33
Man Utd 20/1
Premier League Relegation Odds
Swansea 2/7
West Brom 6/5
Huddersfield 5/4
Brighton 15/8
Huddersfield 11/4
Newcastle 13/8
Bournemouth 5/2
Crystal Palace 4/1
Stoke 11/4
West Ham 6/1
Comments