Macau, December 2017 – Global Gaming Expo (G2E) Asia, the region's largest sourcing platform for global gaming and entertainment products, is the proud recipient of the Brand Exhibition Award.  This is the second year that the globally renowned industry exhibition, presented by the American Gaming Association (AGA) and organized by Reed Exhibitions, the world's leading event organizer, received the honor.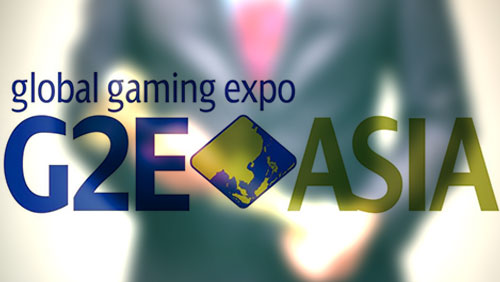 The award is organized by the Macao Convention and Exhibition Association (MCEA) and co-organized by the Macau Fair & Trade Association, the Association of Advertising Agents of Macau, and the Macau Federal Commercial Association of Convention & Exhibition Industry. The award ceremony, the Macao Convention and Exhibition Commendation Awards is scheduled to take place on December 12.
"It is such an honor to once again receive the Brand Exhibition Award," said Josephine Lee, Chief Operating Officer of Reed Exhibitions Greater China. "G2E Asia has built a solid bridge between Macau and the world to promote local industry capabilities and economic development. As G2E Asia steps firmly into its second decade, being recognized for our contributions to Macau and the industry is quite an inspiration to all of us. We are extremely grateful to MCEA. This honor will serve as a driving force to ensure that our teams deliver even better and more professional editions that will fully meet the needs and exceed the expectations of the industry."
The annual award recognizes and honors outstanding events, or "exhibition performances," that serve as a role model in brand creation and have a positive impact on the long-term exhibition development and promotion of Macau's MICE industry, thereby contributing to its maturity into an "International MICE City."
Award criteria encompasses exhibition settings (including hardware facilities and software capabilities), organization, service quality and effectiveness. This year's Brand Exhibition Award is one of five award categories to be presented in December, together with the Brand Convention Award, Innovative Exhibition Award, Bid Convention Award and the Original Convention and Exhibition Award.
Global Gaming Expo (G2E) Asia, the region's one-stop destination for forward-thinking gaming and entertainment decision makers and suppliers, attracts an increasing number of local and overseas participants each year. Its 2017 edition boasted its attendance numbers and visitor satisfaction, spanned a record-breaking 28,000 sqm show floor, and welcomed nearly 13,000 visitors from 84 countries and regions. More than 580 pre-arranged business matchings also took place, totaling onsite business volume numbers of $21.95 million, including $55.75 million in intended purchases.
G2E Asia's 12th edition will be returning to The Venetian Macao on May 15 -17, 2018.
ABOUT G2E ASIA
G2E Asia is the international gaming trade show and conference for the Asian gaming industry. Organized by the American Gaming Association (AGA) and Reed Exhibitions, G2E Asia made its debut in 2007, defining itself as the preeminent show for the Asian gaming-entertainment industry.

About the American Gaming Association
The American Gaming Association is the premier national trade group representing the $240 billion U.S. casino industry, which supports 1.7 million jobs in 40 states.  AGA members include commercial and tribal casino operators, suppliers and other entities affiliated with the gaming industry.  It is the mission of the AGA to be the single most effective champion of the industry, relentlessly protecting against harmful and often misinformed public policies, and paving a path for growth, innovation and reinvestment.
About Reed Exhibitions
Reed Exhibitions is the world's leading events organizer, with over 500 events in over 30 countries, bringing together over seven million active event participants from around the world. Today Reed events are held throughout the Americas, Europe, the Middle East, Asia Pacific and Africa and organized by 41 fully staffed offices. Reed Exhibitions serves 43 industry sectors with trade and consumer events and is part of RELX Group, a world leading provider of professional information solutions.
Comments