18th October 2017, London. FunFair today announced that David Greyling has been appointed Chief Operating Officer.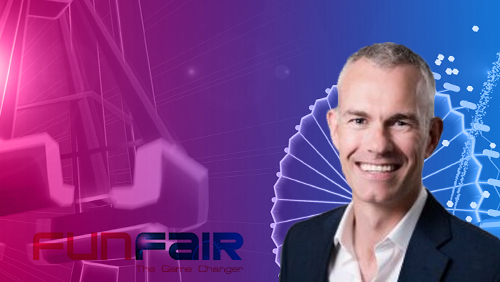 Greyling previously held an International Managing Director role at William Hill. He will report to Jez San OBE, CEO and Founder, FunFair. "David is a seasoned and trusted leader who consistently delivers results.  He is uniquely qualified to drive strategic prioritization within FunFair, with a laser-focus on operational excellence," said Jez San OBE, Founder and CEO, FunFair. "I have tremendous confidence in David's ability to align FunFair's world-class blockchain platform with industry-leading operational practices to drive and extend the next-generation of gaming."
Effective immediately, Greyling will assume responsibility for business development, finance, legal, regulation, HR, and establishing marketing and operations. Greyling will gear up the business as a brand and establish FunFair's outward facing service, engaging with operators, gaming and the community.
"FunFair's excellent team and technology is growing at a rapid pace. It is important to nurture the company's startup and blockchain culture during this growth, as well as prepare FunFair for commercial success." said Greyling.
Prior to this appointment, Greyling was responsible for the International Expansion of William Hill Online. In that role he was responsible for £130M net revenue across Regulated and Unregulated International markets. He has a background with digital and full-service agencies, including entrepreneurial Holst Digital and Arc Worldwide, (part of the Leo Burnett/Publicis Group), working with blue chip clients from sectors including FMCG, automotive, luxury goods and financial services.
About FunFair
FunFair is the world's fastest Ethereum casino platform. It's also the first blockchain platform and protocol to make online casino games fun, fast, and fair. The company's combined 40 years of experience building gaming and casino software means players benefit from beautiful, intuitive games that have bigger payouts and are always provably fair. Using its first-of-kind Fate Channel technology and Ethereum smart contracts, FunFair offers the ultimate casino experience – complete transparency, astonishing efficiency, and unrivalled game play. FunFair is a developer of the platform, protocol and games.  The company licenses these games to operators and does not operate the games directly.  Founded in 2017 by Jez San, Jeremy Longley and Oliver Hopton, FunFair is headquartered in Singapore with offices in London, Guernsey, Gibraltar and Malta
Media contact: Cecile Baird | [email protected] | +44 7900 817 082
Comments