AfroMillionsLotto, the Nigerian Professional Football League's (NPFL) exciting new lotto, goes live TODAY – allowing people to buy their online tickets for the first big jackpot draw, which will take place on Wednesday 18th October.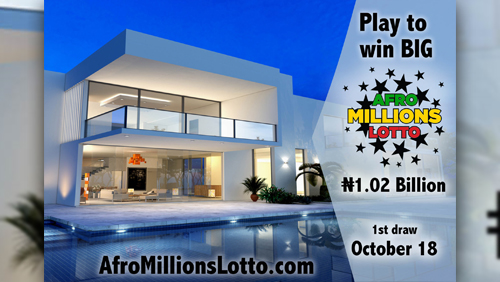 Starting at N1 billion, the www.afromillionslotto.com twice-weekly draw features bigger jackpots than all the lotteries in Nigeria combined. What's more, it will also be the largest jackpot on offer anywhere in Africa. And if the jackpot rolls over because there are no winners, it increases by N100 million with each draw until it reaches a maximum of over N2 billion.
Winners of the jackpot could afford one of the most expensive homes on sale in Nigeria, the wedding of their dreams, a chrome-plated Ferrari and still have money left over!
Another huge benefit of buying your ticket on-line with AfroMillionsLotto is the fact you'll receive an alert via email if you've won. Millions of cash prizes go unclaimed every year as people forget to check whether they have a winning ticket.
The website also offers nine, 'Candy Crush' style, Instant Win games, which can be played for fun or to win cash prizes of up to N12 million!
Each NPFL club will have their own lotto website so football fans can support their favourite team. Every time someone buys a ticket or pays to play, that club will receive a percentage of the revenue to help fund player development, contribute to stadium and pitch improvements as well as support community-based projects.
You'll find a link to all the football clubs' websites offering AfroMillionsLotto at www.afromillionslotto.com – you don't have to be a football fan to play, anyone is welcome to join in and have the chance to win a life-changing prize. However, the only way to play is via one of the official sites listed on the AfroMillionsLotto website.
For further information or to arrange an interview with the NPFL's Shehu Dikko or AfroMillionsLotto's James Leppard, please email media@afromillionslotto.com
How it works
After selecting the football club of your choice and setting up an account on the AfroMillionsLotto website, anyone over the age of 18 can deposit money using their credit or debit card or e-wallet.
They then choose a line of six numbers ranging from 1 – 49 and an additional bonus number between 1 – 9 before buying a ticket costing 0.60 Euros (€) (approx. N250). The winning numbers are based on the twice-weekly German National Lottery draw, which can be viewed live on German television on Wednesday and Saturday evenings.
Jackpots and prizes will be displayed on the AfroMillionsLotto website, together with the prizes for correctly predicting 6, 5, 4, 3 and 2 matching numbers. The minimum jackpot starts at 2,500,000 Euros (€) (more that N1 billion) and rolls over by 250,000 Euros (€) each time it's not won until it reaches a maximum of 5,000,000 Euros (€).
Why Euros?
AfroMillionsLotto sells tickets and displays jackpots in Euros (€) because it's the currency of choice for the lottery industry. However, people pay to play in Naira and when they win, they'll withdraw money in Naira too. By promoting AfroMillionsLotto in Euros (€), we can offer the biggest jackpots in Africa. It's as simple as that.
About Ofertas365 Limited
Ofertas365 Limited is the company behind AfroMillionsLotto and aims to help sports clubs and charities in emerging markets raise money through lotto and Instant Win games.
The publicly-listed, UK company is headquartered in London.
Comments