Genius Sports to monitor global betting markets and provide bespoke educational services
PONTE VEDRA BEACH, Fla. (September 2017) – The PGA TOUR has announced that it will implement a new Integrity Program effective January 1, 2018, to protect its competitions from potential outside influences related to gambling.
While the TOUR has a longstanding policy prohibiting players from betting or related activities at TOUR-related events, the new Integrity Program is more comprehensive. It will cover all facets of competition and operations on the six Tours overseen by the PGA TOUR, including players and their support teams, all tournament staff and volunteers, the entire PGA TOUR staff and the PGA TOUR Policy Board.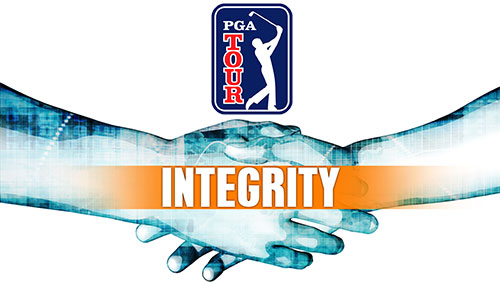 The Program's stated mission is: "To maintain integrity and prevent and mitigate betting-related corruption in PGA TOUR competitions – ensuring competitions always reflect, and appear to reflect, the best efforts of the players, while protecting the welfare of the players and others involved with the PGA TOUR – through clear policies and regulations, ongoing education and training, and effective and consistent monitoring and enforcement functions."
To assist with the implementation of the program the TOUR has engaged Genius Sports, the global leader in sports integrity services, to provide several key services. This includes its state-of-the-art bet monitoring system which tracks real-time betting activity and utilizes proprietary algorithms to identify potentially suspicious patterns occurring in global betting markets.
"The bedrock of PGA TOUR competition are the inherent values of golf and the honesty and integrity of our members," PGA TOUR Commissioner Jay Monahan said. "We recognize, however, that no sport is fully immune from the potential influence of gambling. So, we felt it was important to move forward with an Integrity Program to further protect our competition from betting-related issues. Genius Sports will provide essential support as we roll out the Program across the entire PGA TOUR."
The TOUR has worked with Genius Sports to develop a tailored educational program that will help players, caddies and officials to identify, resist and report incidents of potential betting corruption. Educational workshops will reinforce the PGA TOUR's regulations and highlight the potential consequences related to betting corruption. Additionally, custom-made e-learning modules will be available on a worldwide basis to all PGA TOUR players in multiple languages.
Mark Locke, CEO at Genius Sports Group, said: "We are delighted to partner with the PGA TOUR to drive its integrity initiatives. Protecting the integrity of sport has never been of greater importance and it requires forward-thinking organizations such as the PGA TOUR to proactively invest in both proven technology and education driven by true expertise."
The TOUR will receive important insight into global betting activity on its tournaments across the PGA TOUR, PGA TOUR Champions, Web.com Tour, Mackenzie Tour-PGA TOUR Canada, PGA TOUR Latinoamérica and PGA TOUR China, covering approximately 140 events per year. The Program will be administered by a PGA TOUR Integrity Officer, and investigations will be conducted by an independent group with experience in law enforcement.
Contact:
Chris Smith
PGA TOUR
(904) 273-3379
csmith@pgatourhq.com
Christopher Dougan
Genius Sports
(202) 766 4430
christopher.dougan@geniussports.com
About PGA TOUR
The PGA TOUR is the leading global platform in professional golf, showcasing the highest expression of excellence, both on and off the course. The PGA TOUR's mission is to entertain and inspire its fans, deliver substantial value to its partners, create outlets for volunteers to give back, generate significant charitable and economic impact in the communities in which it plays, grow and protect the game of golf and provide financial opportunities for TOUR players.
The PGA TOUR co-sanctions more than 130 tournaments on the PGA TOUR, PGA TOUR Champions, Web.com Tour, PGA TOUR Latinoamérica, Mackenzie Tour-PGA TOUR Canada and PGA TOUR China. Its members represent the world's best players, hailing from 24 countries (89 members are from outside the United States). Worldwide, PGA TOUR tournaments are broadcast to more than 1.1 billion households in 227 countries and territories in 23 languages. Virtually all tournaments are organized as non-profit organizations in order to maximize charitable giving. In 2016, tournaments across all Tours generated a record of more than $166 million for local and national charitable organizations, bringing the all-time total to $2.46 billion.
The PGA TOUR's web site is PGATOUR.COM, the No. 1 site in golf, and the organization is headquartered in Ponte Vedra Beach, Fla.
About Genius Sports
Genius Sports is a global leader in sports data technology, distribution and integrity services. We work in partnership with sports leagues, federations and rights holders, providing innovative and data-driven solutions.
Headquartered in London and across more than 16 locations worldwide, Genius Sports is recognised as one of the fastest growing sports technology companies in the world. Our commitment to sport goes beyond delivering profitable and technical solutions for our partners. We understand that the protection, integrity and successful commercialisation of official sports data is fundamental to the continued success of the industry.
Through our Integrity Services, Genius Sports works alongside governing bodies to safeguard the integrity of their competitions from the threats of match-fixing and betting-related corruption. Our services include a state-of-the-art bet monitoring system, bespoke educational programs, consultancy services and expertise in assisting investigations.
Genius Sports Limited
25a Soho Square London, England, W1D 4FA
T: +44 (0)20 7851 4060
www.geniussports.com
Company Registration: 10197219
Comments