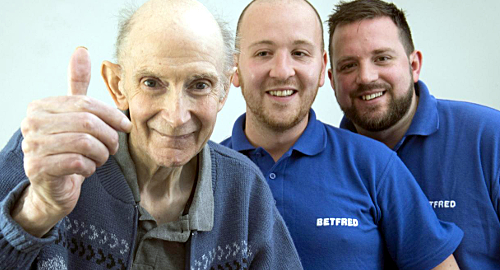 Two staff members of a Betfred betting shop are being credited with saving the life of a pensioner who fell into a diabetic coma.
Michael Base, a 72-year-old regular customer at a Betfred shop in Diss, Norfolk, has hailed shop staffers Jamie Scales and Jack Bell as the reason he's still alive. "I don't think Jamie and Jack saved my life – I know they did."
Base, a retired chicken factory worker who suffers from diabetes, spent four days on the floor of his home after falling into a coma and likely would have died were it not for Scales and Bell noticing that Base hadn't been in to make his twice-daily £1 racing wagers.
According to the official Betfred blog, Scales and Bell checked betting slips filed by other staffers in the hope of recognizing Base's distinctive hand-writing. Having no luck, they began asking local residents if they'd seen Base in recent days, and Base's neighbor Glen Bingley directed them to Base's house.
Scales received no answer when he knocked at Base's door. But peering through the window, Scales spotted the tartan bag that Base always carried with him lying on the floor. Scales then contacted local police to alert them that something was amiss.
Police eventually broke down Bates' door and later told Scales that Bates was "on his last breath" when they arrived. Base says he doesn't know how he ended up on the floor but concluded that it was "obviously something to do with my diabetes. I was only a few yards from my tablets but couldn't reach them."
Bates is currently recuperating at a residential care home after spending four days in hospital. Bates' neighbor Bingley said Base would definitely have died "had it not been for the Betfred fella going round."
Bates said he already misses his daily trips to his local Betfred, because he "had some good winners over the years, including £350 on the horses once." Culrose House care home staffer Hans Daugaard-Hansen says the home staff have promised to escort Base back to his favorite betting shop once he's strong enough, as he "certainly loves his racing."
Betfred boss Fred Done expressed delight that Base was on the mend and praised his staffers for going "the extra mile to help a regular customer. They did brilliantly and are a credit to the company."
The tale of Base's rescue is a poignant counterpoint to the current UK media narrative of uncaring betting shop staff treating customers like sheep to be fleeced. Notably, the Guardian, which has led the charge to paint gambling operators with its scarlet letter, has yet to report on the Betfred staff's good deed.
Comments