Dublin, Ireland – September 7th 2017 – Global developers and publishers of social casino games for mobile platforms the KamaGames Group, today announced another significant update to its portfolio of award winning social casino titles.
This latest update will be focused on enhancing the competitive elements of the popular Roulettist game, as well as giving players more opportunities to win chips, with the introduction of daily Player vs Player (PVP) tournaments which will allow players to compete in real-time on tournament leader boards, win trophies and unlock achievements, it will also give every player taking part the chance to win up to 35 Million chips in every tournament they enter.
In addition to the update to Roulettist, KamaGames' flagship title, Pokerist, will also be getting a significant update with a total of five new and thrilling party modes launching soon. The titles and descriptions of these new and innovative modes are as follows: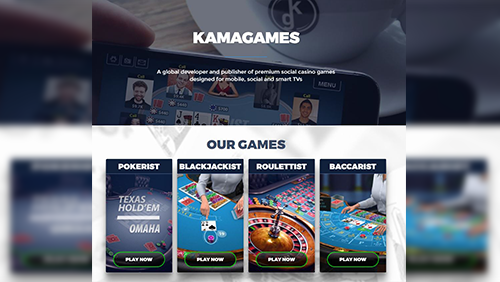 U-Turn Party – Once the fourth card is dealt, one of the cards on the table will randomly change up. After that, users will play one more round/the river
Swap Party – Once the flop has been dealt, players have to choose which one of their two hole cards will be moved to player on their left. They then receive a replacement card from player on their right. Once each player's cards are exchanged, play will continue as normal
3-Card Party – Players will get three hole cards but only two of them will be visible. Once the river card is dealt the 3rd card will be revealed. Players must then make up their chosen hand using the cards available
Joker Party – We'll be adding 4 Jokers to the deck which can be dealt randomly to any of our players. If a player gets a joker, it will automatically change to the strongest possible card in the deck when combined with the rest of the player's cards 
10 To Ace Party –  A little different than the other games as its only for up to 5 players and it only uses face cards and so is the most challenging. Two decks will be dealt and players will have to make a winning hand from what they are dealt
Full details will be announced as each new mode is released.
In addition to the gameplay updates, KamaGames has introduced a new in-game newsfeed allowing them to communicate directly with their community and over 500,000 daily active players sharing news on sales, tournaments, when each new poker mode is launched and lots more.
To learn more about KamaGames and its portfolio of titles visit www.KamaGames.com
For more information contact
Sam Forrest
Director of Global Communications & Content
KamaGames UK
S.Forrest@KamaGames.com
About KamaGames
The KamaGames Group are global developers and publishers of social card games designed for mobile, social, consoles and smart TVs.
Established in 2010 and employing over 220 staff, the KamaGames Group has its corporate headquarters in Dublin, Ireland as well as offices in London and Dubai. The group is also present either directly or through its network of partners in all global markets including USA, Europe ASIAPAC, and the Middle East and CIS countries.
Bringing together creativity, proprietary technology and a passion for games, KamaGames has built a portfolio of premium social card games designed to deliver real-life entertainment to the masses. KamaGames' Random Number Generator (RNG) is certified by iTech Labs and meets the highest standards to guarantee fair play.
KamaGames portfolio is localised into 29 languages and reaches over 90 million gamers worldwide.
The flagship game, Pokerist(R), was named one of the Best Apps of 2012 by Apple, was the #1 Top Grossing App on the Apple App Store in 89 countries as well as being in the Top 5 Google Play Grossing Apps in 24 countries.
For further information on KamaGames' portfolio of titles click here.
Comments