WrB London
WrB London 2017 has a theme of "Responsible Gambling Innovation" and will cover responsible gambling politics, technology and commercial strategy.  Topics to be covered on the day will range from managing responsible gambling across multiple jurisdictions, to how to build a responsible and transparent culture, change the social perception of gambling and how to measure the success of a responsible gambling campaign.
What: WrB London
When: September 12, 2017
Where: OXO Tower, London
Register: Online
Betting on Sports Conference
The second annual Betting on Sports Conference, part of the SBC suite of events, has become a must-attend event for all sports and betting industry professionals.  This year SBC is expecting enormous growth from last year with over 1,200 delegates, 160 speakers, 44 sessions and 60 exhibitors.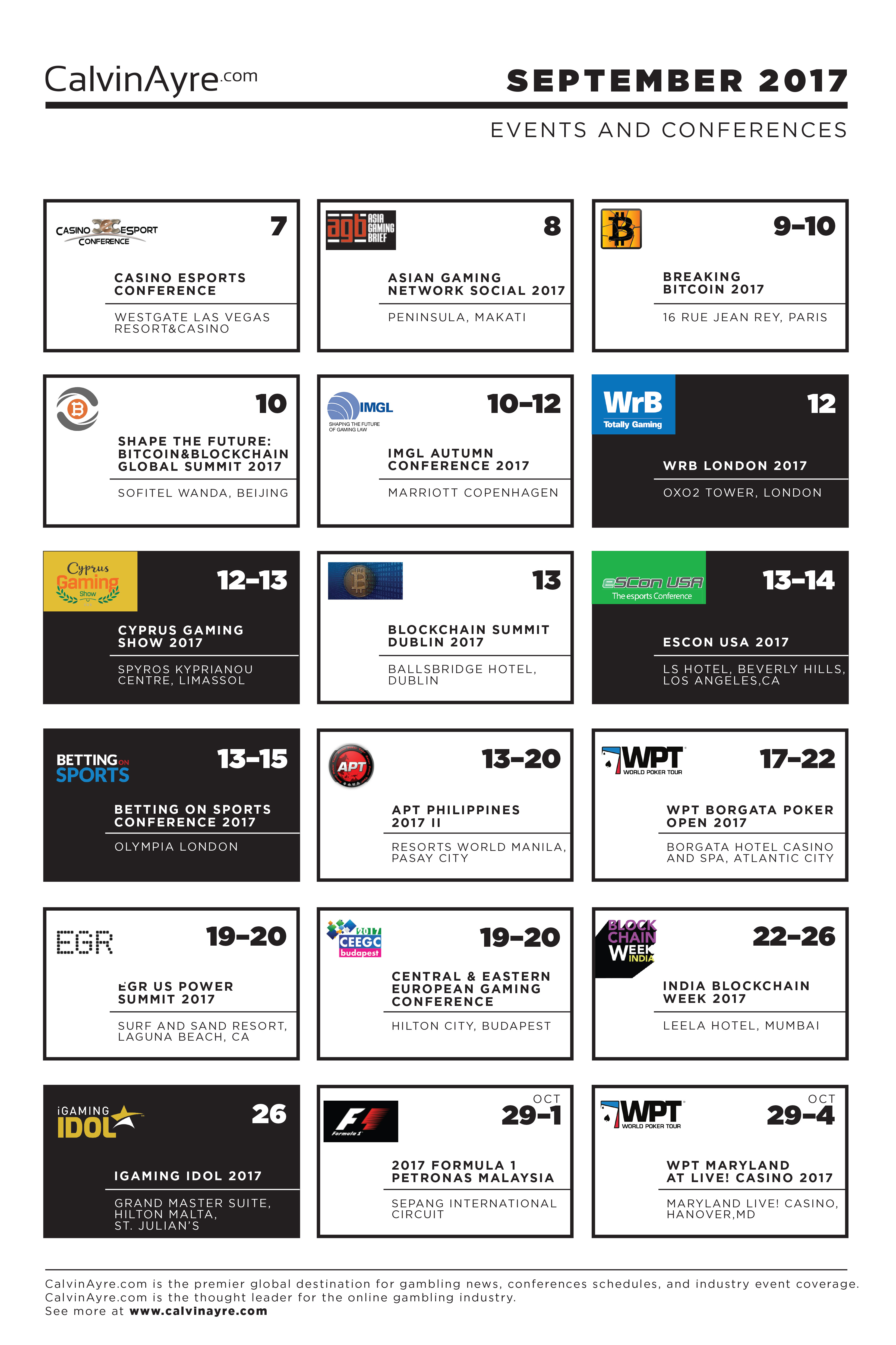 In addition to providing ample opportunities for networking throughout the day, evening drinks and parties have been organized for all delegates, including pre-registration drinks on the 12th and a casual networking gathering on the morning of the 15th.
What: Betting on Sports Conference
When: September 13 & 14, 2017
Where: Olympia, London
Register: Online
eSports Conference
Recognized as the leading dedicated eSports industry conference for the past three years, The eSports Conference returns to LA and promises to cover the latest topics in eSports for the entire ecosystem.  Over the course of two days, delegates can expect to learn about brands in eSports, investment, partnerships, localization, sustainability and fan engagement.
What: eSports Conference
When: September 13 & 14, 2017
Where: SLS Hotel, Los Angeles
Register: Online
Cyprus Gaming Show
The Cyprus Gaming Show brings together online and offline gambling industry professionals for a two-day conference and expo to promote the region as a prospective gaming hub.  Topics to be covered in the sessions include an overview of the current and future gambling landscape in Cyprus, opportunities and challenges IRs will bring to Cyprus, Big Data, crypto-currencies, marketing strategies, lottery and more.
What: Cyprus Gaming Show
When: September 20 & 21, 2017
Where: Hilton Cyprus, Nicosia
Register: Online
iGaming Idol
Now in its second year and returning to the Hilton Malta, iGaming Idol is a celebration of talent in the iGaming sector in the form of an Awards Gala Dinner.  On the evening of September 26th, iGaming Idol will recognize stars in the industry who have shown excellence in their roles, raise money for charity and provide top-notch entertainment.
What separates iGaming Idol from other industry award events is its recognition of individuals as opposed to organizations and the nominees' requirement to "prove themselves" in front of a panel of judges.
What: iGaming Idol
When: September 26, 2017
Where: Hilton Malta
Book your table: Online
Comments