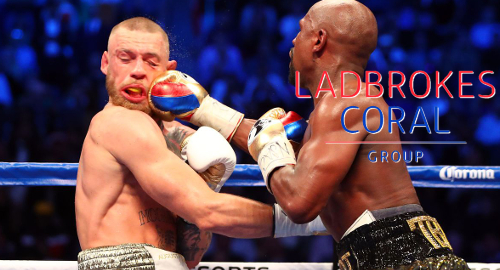 UK-listed gambling operator Ladbrokes Coral credited strong digital growth for overcoming its weak retail operations in the first half of 2017.
Thursday saw Lads Coral issue its interim results for the six months ending June 30, which were largely in line with the earnings preview it issued last month. Year-on-year comparisons are complicated by the fact that Ladbrokes and Gala Coral Group were standalone entities before last year's merger, but pro-forma revenue inched up 1% to just under £1.2b, while earnings were flat at £211m.
Digital revenue hit £374.5m, up 17% from the same period last year. Sports betting stakes rose 23% (34% if you factor out last year's Euro 2016 impact), while revenue gained 25% to £180.7m. Digital gaming revenue rose 11% to £193.8m, driven by a 15% rise in sportsbook-led brands on increased cross-sell.
Lads Coral credited multi-channel as a key component of digital growth, accounting for 53% of Coral.co.uk net revenue and 36% of Ladbrokes.com revenue. Over one-third of active customers at Eurobet.it were initially acquired via the Italian brand's retail outlets.
The integration of Ladbrokes and Coral will seek to build on the enlarged group's 'omni-channel 2.0' strategy that will see Ladbrokes launch an omni-wallet product similar to the Coral Connect card, while Coral just debuted a retail app that mimics the Ladbrokes Grid app's bet-tracking and cashout features.
The group's UK retail ops will take all the boosts they can get after reporting revenue falling 6% to £697.2m. OTC betting was largely to blame for the decline, with stakes off 10% and revenue down 11% to £299.7m, while machine gaming revenue dipped 1% to £397.5m.
Self-service betting terminals (SSBT) accounted for 10% of H1's OTC stakes, up nearly one-quarter year-on-year. There were over 9k SSBTs in action at the end of H1, and the group plans to 'rebalance' these machines across the Ladbrokes and Coral brands' real estate during H2.
European retail ops fared even worse, with revenue down 10% to £103.6m despite stakes rising 8% year-on-year.
Looking ahead, the company said group revenue was up 6% in the seven weeks to August 20, as a 15% rise in digital revenue offset a 1% fall at UK retail. The company noted that Floyd Mayweather Jr's recent TKO v. Conor McGregor had saved the company from a "bloody nose."
Lads Coral CEO Jim Mullen said his company was in "good shape and we have come a long way in a short time," reflected in the company's decision to double its interim dividend to 2p per share.
Comments