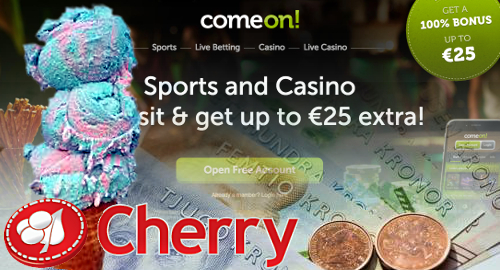 Nordic online gambling operator Cherry AB nearly tripled its revenue in the first half of 2017 thanks mainly to last year's acquisition of ComeOn.com.
Figures released Thursday show Cherry's revenue jumping 192% to SEK 1.07b (US $133.5m) in the six months ending June 30. Earnings jumped 334% to SEK 176m while net profit nearly doubled to SEK 51m.
Cherry's Q2 numbers were equally inflated, with revenue up 179% to SEK 536m, earnings up 524% to SEK 93m and profit nearly doubling to SEK 15m. Stripping aside contributions from the mid-2016 addition of Malta-licensed ComeOn.com, organic revenue growth was a still impressive 37%.
The second quarter was an active one, as Cherry finalized the purchase of the 51% of ComeOn! that it didn't already own, while adding a 25% stake in gaming technology firm Highlight Games Ltd and boosting its stake in German-facing online casino and sportsbook operator Almor Holding Ltd.
Cherry CEO Anders Holmgren said the Q2/H1 numbers were all the more impressive given that "the integration of ComeOn has not yet reached full positive effect." Holmgren noted that while ComeOn "continued to develop positively," the brand's marketing efforts "have not yet had the expected effect" and the integration "will take a little longer than initially anticipated."
Cherry's former in-house software development division Yggdrasil Gaming reported Q2 revenue more than doubling to SEK 40.4m, of which all but SEK 5.9m came via external B2B clients. Cherry's share of Highlight Games, which took effect on June 1, resulted in a net loss of SEK 600k, but Cherry insists things will turn around starting in Q4 following the launch of products in "several markets."
The Game Lounge affiliate business saw revenue rise 164% to SEK 33m, of which all but SEK 5.7m was from external sites. Game Lounge reported growth in all markets despite reduced marketing efforts. Cherry holds a 51% stake in Game Lounge, and has the option of acquiring the remaining 49% after 2017.
Cherry's technology and payments offshoot XCaliber reported revenue of SEK 9.6m, all but SEK 100k of that coming from ComeOn, from which it was spun off last November. XCaliber inked its first external client in April and has partnered with a Japanese firm to boost its Asian market presence.
The Cherry Spelglädje restaurant casino division reported revenue rising 3.4% to SEK 37.2m, although the company copped to the fact that the modest gain was primarily due to calendar derivations. The division provides gaming products to around 260 restaurants, nightclubs and hotels as well as providing bespoke one-off 'Event Casino' services for companies and individuals.
Comments