This is a guest contribution by Matt Harris, Head of Content at 90Digital.com. If you would like to submit a contribution please contact Bill Beatty for submission details. Thank you.
For much of the first test at Edgbaston, England's biggest opponents seemed to be the weather. Joe Root's side faced a race against the elements to get the win over the line, bucking the trend of the modern era to enforce the follow on as they sped to victory inside three days.
Few expected 19 West Indian wickets to fall on day three but at times the tourists' participation seemed incidental. England became the first side to win a Day / Night test by an innings and their dominance in Birmingham is reflected by the fact that the West Indies are out at 200/1 to win this three match series.
Pink vs Red
It was meant to be a trip into the unknown: the first test under lights in England and the latest in the development of pink ball cricket. We'd previously discussed the pink ball game here and the likelihood of tests being completed in a short space of time in an era when the draw seems to be less of a betting option in five day cricket.
Trials in the County Championship earlier this summer had actually produced some higher scoring games with the ball losing its ability to hoop around corners early on. Hampshire's Liam Dawson was one to conclude that the pink ball could lead to some very dull action on the field.
"From my first experience of it, I think they need to have a good look at what balls they are going to use," Dawson said during Hampshire's fixture with Somerset back in June.
"If you are going to keep on using those balls then you are going to get some pretty boring cricket.
"It just goes very soft, very quickly.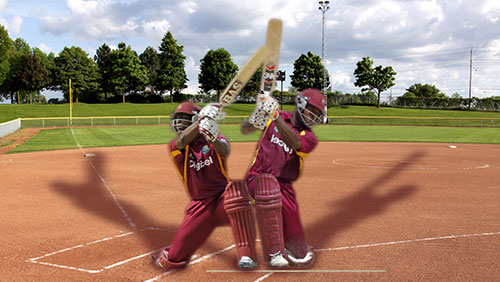 Stuart Broad was another England international bowler who just about stopped short of condemning the ball, telling Sky that it didn't shine and felt like plastic compared to its red counterpart.
Despite that, Broad combined with Jimmy Anderson and Toby Roland-Jones to seam and swing it past West Indies and ultimately tell us little about the future of day / night cricket in England.
Mismatch
It isn't the fault of the individual tourists that they succumbed so meekly to England's bowlers. This is a young West Indies side trying to compete against an experienced team who are simply better in all departments. All the while, there is arguably a much more competitive West Indian XI currently taking part in the rather more lucrative Caribbean Premier League.
Nevertheless, their performance in Birmingham has led to renewed calls for a two-tier test system that would look to eliminate this type of mismatch.
Back in 2013, former England skipper Michael Vaughan was already discussing the possibility of two divisions and this time he took to Twitter to continue the debate.
"This really isn't a good spectacle for Test Match Cricket… 2 divisions please," he tweeted on the Saturday of the game.
With the addition of Afghanistan and Ireland, the list of test playing nations now stands at 12 and to an extent, the prospective two divisions of test cricket fall naturally into place.
Ireland and Afghanistan, plus Bangladesh, Zimbabwe, West Indies and potentially Sri Lanka should provide competitive cricket between them with the obvious provision of promotion and relegation to give games an added edge.
Naturally there will be the argument that the lower ranked nations should be allowed to play at Lord's, the MCG and other top arenas around the world but, at a time when T20 continues to develop, will one-sided games such as the one we've seen at Edgbaston negate the potential that Day / Night cricket has to attract bigger crowds?
Long way back
Anyone looking to bet on the West Indies is given little encouragement in the markets. Even if Jason Holder's tourists were more competitive and had a shorter price tag than 200/1, it's always a tough ask to come back from 1-0 down in a three match series.
The second test starts at Headingley on Friday August 25th and we have England for a win in that match at a best of 1/7 and the Windies out at 25/1. Over a potential five days, there are few shocks in the game and barring any weather intervention the hosts seem nailed on for a 2-0 lead.
As for the pink ball and its effect on the game and on crowds in England, we will have to wait until stronger opposition arrive before we can make an assessment.
About the author:
Matt Harris is a iGaming PR specialist at 90digital.com and a freelance cricket writer for betting.betfair.com.
Comments