Online lottery betting operator has made a significant donation to charity aimed at supporting those affected by acquired brain injury.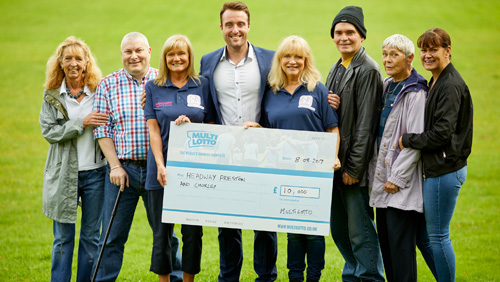 Online lottery betting operator Multilotto has announced Headway Preston and Chorley as its first UK good cause, awarding the charity with a £10,000 donation.
Multilotto ran a campaign throughout the North West of England looking to find a good cause to support and Headway was eventually chosen from a list of 170 nominations.
Headway offers support to the survivors, families and carers of those affected by brain injury.
Multilotto will now be looking to support more good causes throughout the UK.
Head of Communications for Multilotto Andrew Clarke said, "We want to help those causes that directly affect the lives of everyday people.
"Headway Preston and Chorley get by on a really tight budget but they still manage to help over 400 familes who have been affected by brain injury.
"We will be extending our search for good causes now out across the UK and we hope we can help many more people in the future."
About Multilotto
Multillotto is the online destination for customers who want to bet on a wide range of international lottery jackpots. Our two biggest jackpots are Powerball and Mega Millions from the United States. We also offer Europe's largest transnational lotteries, EuroJackpot and EuroMillions.
For further information please contact:
Andrew Clarke, Head of Communications and PR at Multilotto
00356 79440091
andrew@themultigroup.com
Comments