A double barrel of live tournament results, including a second Poker EM Main Event title for Simon Boss, and a record breaking Mid-States Poker Tour victory for Carter Myers in Iowa.
My drinking career began in the Ogmore Vale Conservative Club. I remember how nervous I was the first time I entered what would be my second home. I had to sign the big book because I wasn't a member.
Mickey Mouse
'Macho Man' Randy Savage
Don Johnson
Billy Connolly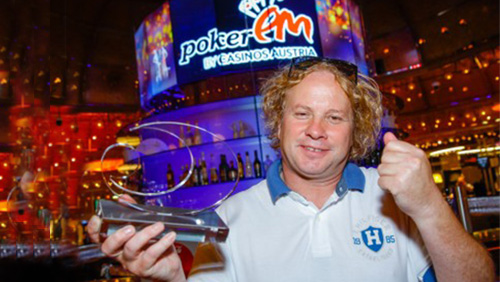 I think I might have been the only person to write my real name.
And I think the Casino Velden is suffering from the same problem. The Poker EM Festival drew to a close this week. The festival, held at the Casino Velden in Austria, consisted of 15-events with the dessert being a €2,200 No-Limit Hold'em European Poker Championship Main Event.
It was a case of Boss by name, Boss by nature, as the Swiss player Simon Boss defeated 236 entrants to claim the €120,000 first prize. Bizarrely, Boss only has ten live tournament scores to his name, but one of them is this same tournament when he beat 169 entrants in the slightly more expensive €4,350 buy-in event, in 2015, to take home the €182,600 first prize.
Back in 2015, things were simple, with the likes of Stefan Huber (3rd), Ismael Bojang (4th), and Manig Loeser (5th) running deep, but this year, half of the final table refused to give their names.
The event accumulated €590,000 in prize money.
Here is that half-assed roll call.
Final Table Results
1. Simon Boss – €120,000
2. PiuPiuPiu – €109,000
3. Kilian Loffler – €59,000
4. Joe – €42,000
5. Der Papa – €32,000
6. Markus – €27,000
7. Rinat Bogdanov – €22,000
8. Ben – €19,000
9. Bruno Stefanelli – €15,000
10. Said Nadjem – €13,000
Other players who went deeper than a package for the devil were Manig Loeser (13th), Stefan Huber (19th), and Steffen Sontheimer (23rd).
Other highlights in the Poker EM include Balazs Somodi battling through two fields of 268 & 177 players to win two titles. Hossain Ensan beating 27 entrants to win the €5,000 High Roller for €51,000. And Steffen Sontheimer beating 41 competitors to win the €430,000 first prize in the €25,200 Super High Roller.
Carter Myers Wins the Largest Ever Tournament in Iowa
For the second time in a matter of weeks, the Mid-States Poker Tour (MSPT) has set a new state record for a live poker tournament, after the Iowa State Poker Championships drew 496 entrants.
The winner, 29-year-old Carter Myers, went wire-to-wire to capture the $115,109 first prize, after travelling to the event with his girlfriend and two-year-old daughter.
This win just eclipses his runner-up spot in a 2014 World Series of Poker Circuit (WSOPC) gold ring event where he earned $112,420. In 2013, he finished 5/2018 in a $1,000 No-Limit Hold'em event in the World Series of Poker (WSOP) for $78,876.
Last week, Matthew Vignali defeated 1,658 entrants, in an MSPT event, to win the largest ever live tournament held in Wisconsin.
Final Table Results
1. Carter Myers – $115,109
2. Alan Cutler – $69,545
3. Keith Block – $45,324
4. Kurt Bales – $31,415
5. Joshua Smith – $23,981
6. Allan Hedin – $18,465
7. Joshua Reichard – $15,348
8. Jason Ramos – $12,710
9. Nicholas Manganaro – $10,743
Comments