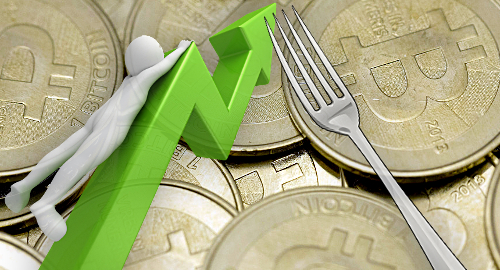 For the first time in the history of cryptocurrency, a new version of Bitcoin is now being mined. And it's not as scary as some reports would have you believe.
On Tuesday, a group of miners split off from the main bitcoin blockchain—meaning they started using a new, incompatible software—creating a new cryptocurrency called Bitcoin Cash.
The blockchain split is the culmination of the years-long scaling debate within the bitcoin community as they search for a way to increase the network's capacity from the original 1MB.
Bitcoin Cash is a project of some of SegWit2X's original backers who have lost confidence that the proposal, which combines Bitcoin Core's Segregated Witness and a block size increase, will implement the "2X" part and decided to take the matters into their own hands.
Unlike SegWit2X, which will send transactions off-chain and increase the block size to 2MB, Bitcoin Cash will increase the block size to 8MB and remove SegWit. And because Bitcoin Cash starts with the same blockchain, this means that people who own coins on the main bitcoin blockchain are entitled to the same number of coins on the new Bitcoin Cash blockchain, effectively receiving a free dividend.
Off to the races
The hours following the blockchain split saw the price for Bitcoin Cash rose from around $214 to $628 as more transactions using the new digital currency take place, according to data from CoinMarketCap. Bitcoin Cash is currently trading comfortably at $500.
Despite the price increase, the value of fresh-faced Bitcoin Cash is still a fraction of the original bitcoin, which is currently holding at around $2,700.
Bitcoin Cash has received support from members of the community who want a block size increase as well as developers of proposals like Bitcoin Unlimited. Australian academic and inventor Dr. Craig Wright recently lauded the initiative for seeking "to achieve a truly decentralized, peer-to-peer electronic cash with higher, more efficient transaction capacity."
However, other camps remain skeptic of the new digital currency. Fran Strajnar, co-founder and CEO of Brave New Coin, told CNBC that "the network needs further support and infrastructure needs to be as easy as bitcoin; otherwise it's over."
Still, there's no denying that many sectors—digital currency exchanges and retailers in Japan, for instance—are now gearing up to credit their customers with the new cryptocurrency. In the online gambling industry, many operators are already on process of adding Bitcoin Cash to their payment options.
Bitcoin, and now Bitcoin Cash, holds particular appeal for the sector that's historically been the target of misguided government policies that aim to protect state-owned gambling monopolies and restrict the individual's freedom to decide how to spend their entertainment dollars.
Comments