PokerStars have held another monster after the $22 buy-in MicroMillions Main Event attracted a $1.7m prize pool, and the acclaimed DJ and producer Zedd will play a 90-minute set at the PokerStars Championship Barcelona Player's Party.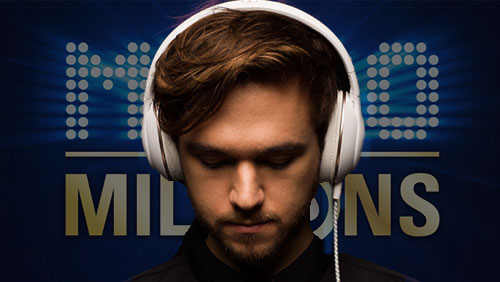 For 13 years, the PokerStars' MicroMillions tournament has given people like me a reason to believe that I'm capable of winning some life changing cash, and showing my partner that it really is worth allowing me a few hours on a Sunday to play some online poker.
It's worth remembering that it took PokerStars 13-years of patient storytelling to create a $22 buy-in event that can pull in over $1.7m in prize money, and for the five players who carved out a happy ending, it was worth the wait.
ElCheikhh from the Netherlands, hahahasucker from Canada, korasidas77 from Greece, BIERB4UCH from Germany, and kate_kok$ from Russia settled on a five-way split, with the Grecian walking away with a tad more prize money thanks to a history that has seen him pick up big scores in the Sunday Million and Spring Championship of Online Poker (SCOOP).
All five players secured $70,000, a remarkable 3,000 times their investment, and when you glance down the final table pecking order and see Banhetaa from Brazil picking up $8.7k, you can see the stark difference between making the final table, and making your appearance at the final table pay.
Here are the final results:
1. Elcheikhh – $95,829.86*
2. Hahahasucker – $75,692.78*
3. Korasidas77 – $99,024.75*
4. BIERB4UCH – $71,119.30*
5. Kate_kok$ – $70,575.08*
6. Petbus2 – $25,213.52
7. Rasmuserico – $17,694.12
8. BATDAD2005 – $12,417.35
9. Banhetaa – $8,714.23
*Indicates a five way deal
Zedd is Not Dead Baby, Zedd is Not Dead
Contrary to the thoughts of Quentin Tarantino, Zedd is not dead baby, Zedd is not dead.
The multi-platinum and GRAMMY award winning artist, DJ and producer Zedd (and not the Gimp owning rapist from Pulp Fiction), will be trading his mixing skills for his poker skills with an appearance at the PokerStars Champion in Barcelona.
The Russian born, German music star (real name Anton Zaslavski), hit the big time in 2012 when his debut album Clarity spread around the world like shoe factories in Asia. His follow-up album True Colors included a collaboration with Selena Gomez.
Zedd will compete in the PokerStars Championships, but will also be found spinning the decks at the Player's Party in Opium, a hop, skip and jump away from the Casino Barcelona.
The PokerStars Championship Barcelona runs over the course of 12 days in August, with over €13m in guarantees, including a €7 guaranteed Main Event. Zedd's 90-minute performance takes place August 21.