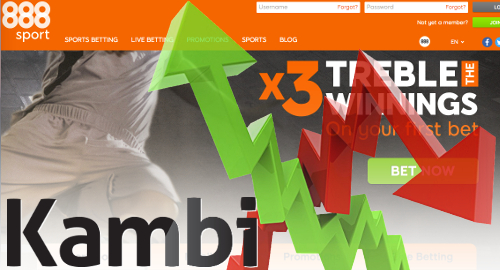 Sports betting technology provider Kambi Sports Solutions insists everything is fine despite revenue rising and profit plunging in the second quarter of 2017.
The Malta-based Kambi released its Q2 earnings report on Wednesday, which showed revenue improving 3% year-on-year to €14.1m in the three months ending June 30. Despite that rise, operating profit fell from €2m in Q2 2016 to just €300k this past quarter, while after-tax profits fell from €1.8m to just €100k.
Kambi blamed a good chunk of the earnings shortfall on the renewal of its contract with UK-listed operator 888 Holdings' sports betting division 888sport. The parties have just announced a multi-year extension to their relationship, which began four years ago and has seen 888's sportsbook revenue grow more than five-fold over that span.
Kambi's new deal with 888sport backdates its commercial terms to January 1, resulting in a €1m adjustment to Kambi's revenue and earnings over the first half of 2017. Despite this impact, Kambi insists the deal "is in the long-term interest of Kambi's growth" as it secures multi-year revenue from a "key customer."
Getting back to the Q2 figures, Kambi says its B2B sports betting customers reported 16% turnover growth, despite Q2 2016 featuring the bulk of the Euro 2016 football tournament action.
Kambi CEO Kristian Nylén said the Q2 numbers reflected the company's strong day-to-day performance and he believes the 888sport renewal has positioned Kambi well for the rest of the year and beyond. Nylén also expects the company's recent sportsbook technology deal with Colombian operator Corredor Empresarial will lead to "significant business opportunities for both parties."
Kambi already has a Latin American foothold via its deal with Mexico's Grupo Televisa, and Nylén believes future exposure from Corredor Empresarial's land-based and online betting operations places Kambi in "a strong position to win further customers in the region."
Comments