Leyton Orient FC is proud to reveal their new home and away kits, for the 2017-18 Vanarama National League campaign.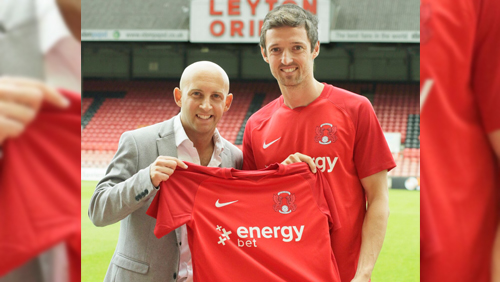 Both the home and away shirts use the Nike Trophy II template, are made with Nike Dry fabric to help keep the wearer dry and comfortable, and use Nike Dri-FIT polyester. The shirts feature a modified V-neck for a non-restrictive fit, in addition to raglan sleeves, allowing for a natural range of motion. The home shirt is complemented with red shorts and socks, while the away shirt goes with blue shorts and socks.
With the release of the new shirt, Leyton Orient FC is again cementing its continuing relationship with EnergyBet, who as main club sponsor, feature on the front of both the home and away shirts.
Leyton Orient Commercial Manager Steve Dixon said, "We are looking forward to another season with EnergyBet… The Club is hoping to be able to provide a much more enjoyable matchday experience this season, and I expect EnergyBet to be part of that with a range of creative and fun activities as well as competitions for our supporters."
EnergyBet spokesperson Russell Yershon, added; "EnergyBet are proud to continue our association with Leyton Orient and like the fans, we are beyond excited about the vision and ambition of the new owners… We are thrilled to be a part of the kit launch for the coming season and see the passion of not only the new owners, but also the arrival of new players who have the ambition to return Leyton Orient into the English Football League and bring the good times back. We look forward to seeing the fans wearing the shirt and being able to reward them with prizes such as hospitality packages and on pitch activities during the coming season."
Following the release of the official kits, the home strip will be available to purchase both online and in the Club shop, from 10am today, where Principal Investor and Vice-Chairman Kent Teague will be greeting supporters between 10am-11am and 2pm-3pm.
The official LOFC 2017-18 away kit will be available to purchase from August 4, and prices for both kits are as follows:
• Junior Shirts £36
• Youth Shirts £40
• Adult Shirts £45
• Junior Shorts £16.75
• Youth Shorts £17.50
• Adult Shorts £20
• Socks £8.50 – £10 dependant on shoe size.
• Infant Kits will be made available shortly, priced at £25
Customised shirt printing will be available soon for just £12.95 – for any name and number. An announcement will be made when shirt printing becomes available.
Comments