The online sportsbook Loot.Bet adds the cryptocurrency SkinCoin to their broad offerings of currencies despite the digital currency currently going through an Initial Coin Offering.
I am 42.
I don't feel old in the physical or mental sense, other than having to pee every few minutes, but I am caveman like when it comes to the shifting sands of the technological advancements whizzing past my eyes with the pace of spawning salmon heading down a bottle-green river.
Take currency, as an example.
I'm a primitive cash man.
I don't carry the stuff, but when I win a poker tournament, there is nothing better than the feel of the filth. There is something symbolic, and symbiotic, about the transfer of blood, cocaine, and semen, that I love.
But soon that loving finger tipped embrace will go the same way as ashtrays on airplanes. Fasten your seat belts, because cryptocurrencies are on their way to scramble your brain like an egg.
Loot.bet, an anonymous online gambling outfit, has announced plans to allow their punters to use the cryptocurrency SkinCoin (SKINs) when betting on esports events on the site.
The Curacao licensed sports book was born in 2016, and although its primary focus is esports events, it also offers bets on traditional sports. Livestream Ltd manages the platform, and they have a broad range of payment processing options including Bitcoin, Neteller, Skrill, Visa, and now SKINs.
What is SkinCoin?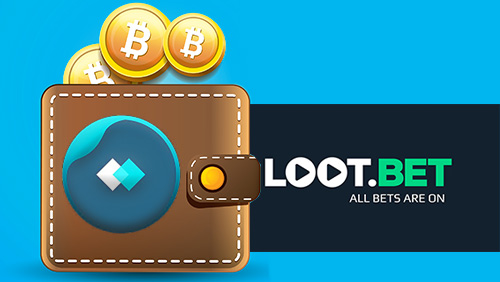 SkinCoin is the brainchild of experienced esports gaming industry peeps Alexey Zakharov and Igor Solomatin. The ultimate goal is to help create an ecosystem based around SKINs by building solid partnerships within the gambling sector, beginning with Loot.bet.
In June, the pair began a SKINs Initial Coin Offering (ICO), providing 300 million SKINs for sale for crowdsale investors (from a ceiling of 1 billion), setting aside 300 million for the SKINCOIN Foundation until the launch of an official SKINs exchange in the very near future. The valuation is 6,000 SKINs per Ether (ETH). The plan is to raise a minimum of 5,000 ETH, with 100,000 ETH the goal. The ICO had generated $3m by the beginning of July. The sale ends July 21.
SkinCoin is based on the distributed server processing system Ethereum blockchain and compatible with ERC20 Ethereum Token Standard. SKINs have been specially created for the online gaming community in reaction to regulators/Valve's squeeze on the incredibly popular Skin Betting business that accounted for 92.57% of total gambling handle last year ($7.4bn).
The currency will allow people to buy and sell in-game skins, and bet on esports events. Over time, the team envisage using them to purchase goods from third party sites.
"We plan to solve the issues of skin trade on all video game sites, "Igor Solomatin told TheMerkle.com. "SkinCoin will provide security to players' in-game assets and protect skin trade platforms from Valve's claims. Unlike fiat money, SkinCoin is not a means of payment according to legal definition in most countries. Third party sites will be able to process trade transactions with the help of SkinCoin and still perfectly conform to Steam policies." 
Solomatin and Zakharov do plan to create a gambling platform, based around their SKINs currency.
The Skin Betting Market 
Skins are in-game add-ons that turn weapons, clothing, etc. into much trendier weapons, clothing, etc. Think crappy old white desk lamp, transformed into an ornate Japanese lantern and you get the picture.
The idea came from the game developer Valve, who introduced them as a fun, and rather addictive, way to increase enjoyment in games such as Counter: Strike-Global Offensive (CS:GO), and Dota 2. The trading of skins was made available on Valve's Steam trading platform and subject to their TOCs.
But the desire to always want more means the ownership of skins went a little ballistic. Think Egyptian Pharaohs and pyramids. Eventually, people were willing to pay cold hard cash to own a particular skin, but the Steam platform didn't allow you to operate in this fashion. Third party sites rose up like the skyscrapers of Manhattan to offer punters a loophole, and soon a multi-billion beast was born.
Rare skins can fetch upward of $10,000.
Researchers, Eilers & Krejcik believe more than 3 million people wagered on esports events, in 2015, using skins worth an estimated $2.3 billion.
Comments