For immediate release: 20 July 2017, Budapest: The organizers of CEEGC2017 are honored to announce a superstar lineup at the second edition of the Central and Eastern European Gaming Conference. An event which is going to take place between 19-20 September at the Kempinski Corvinus Budapest.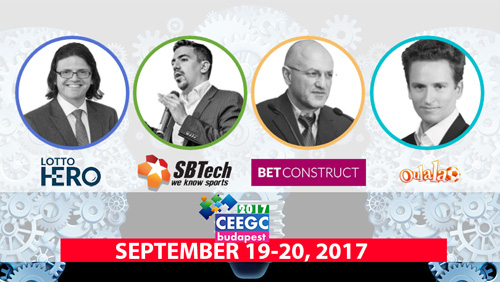 From suppliers to operators, in every sector, companies sooner or later declare themselves 'innovative players'. This is sad but true, however, 'innovation' too often becomes a catchphrase devoid of meaning. The Innovation Talk series organized by EEGEvents has started in 2017 at VIGE and continues to bring new information to the ears and eyes of the delegates with top products and trends being explained by globally recognized brands. By attending the panel you will surely find the core meaning of the word innovation. The latest innovations and hot topics of the industry will be presented by the top names of the industry.
Thus, we are excited to announce that CEEGC will host the 4th chapter of Innovation Talks.
By attending the panel you will surely find the core meaning of the word innovation.
The "Innovation Talks – Latest innovations in the field of gambling and hot topics that shape the industry in 2017 and 2018" panel is scheduled to be held between 10:00 – 11:30 AM (Budapest Local Time) on the 20th of September (Day 2) during the second edition of the Central and Eastern European Gaming Conference Budapest. (you can view the full agenda here)
As Bit8's chief executive officer, Angelo is responsible for leading the company's product development, business and technology strategy. Angelo co-founded Bit8 with Keith Galea and Brian Fenech after identifying the need for an intelligent backend system that positively impacts the operator's bottom line while providing an awesome player experience. Angelo has joined Bit8 as its CEO in 2013 and has led the company through its initial growth phase and its first external financing round.
Angelo holds a bachelor's degree in IT and a master's degree in Computational Linguistics from the University of Malta, together with a doctorate in Computer Science and Search Engine Technology from the University of Sheffield. Angelo has published over 23 publications in Europe and the US since 2001 and has over sixteen years of experience in various executive positions in technology, entertainment and gaming companies. Angelo has also won a bronze medal at the International Olympiad in Informatics (IOI) in 1995.
Tom John Light was born and presently resides in Tel Aviv, Israel. Tom has lived and traveled worldwide and is highly knowledgeable and experienced working in various global regions.
Tom has been working in the gaming industry for many years with a focus on casino operations and sports betting. Currently Tom acts as Vice President of Business Development at SBTech. He is renowned for his role as Vice President of Business Development at FashionTV. Additionally Tom has successfully served as CEO for several online gaming companies such as 7Red Casino and 1King Casino.
Tom is recognized for his high involvement with the creation of the Online How-To Guide 'eHow' and has been featured/published in various interviews and articles.
Vahe Baloulian is CEO of BetConstruct and an award-winning industry veteran, named in 2016 as one of the Gaming Intelligence's 'Hot 50' most innovative and inspiring people in online gaming.
During his long career in the gaming industry, Vahe has served as Director of Gaming at 888, COO of LVFH and CEO of Red Planet Gaming. He is a frequent guest speaker and judge at leading industry events.
Valéry Bollier has over eleven years of experience in the iGaming industry. He is a regular speaker at industry conferences and seminars, as well as a contributor to various BtoB publications. Equipped with a passion for Daily Fantasy Sports (DFS), Bollier is the co-founder and CEO of Oulala.com, a revolutionary fantasy football game which was launched three years ago.
How to secure your seat?

Early Bird Rate is set for 299 EUR an can be booked with the 50% discount until September the 3rd, 2017. Limited seating! (Online payment, Bitcoin or Bank Wire Available)
Register here: https://ceegc.eu/registration/
*25 operators can attend the event for free! Contact the organizers for more details
*Please note: The 25 free seats can be booked until 01.08.2017 and are based on the first come first serve basis.
For more details visit the official website, www.ceegc.eu or contact the organizers directly by email ([email protected]) or by phone (0040 735 559 234).
Watch this space for more interesting updates about #CEEGC2017Budapest
Comments