Automated technology streamlines bespoke TV channel production
10th July 2017 – Paddy Power has agreed a five-year deal with leading live pictures and data supplier SIS (Sports Information Services), to offer its customers a more personalised in-shop live sports betting experience.
The service, which is now live throughout the operator's retail estate, sees SIS provide branded retail TV channels with full Paddy Power TV (PPTV) branding.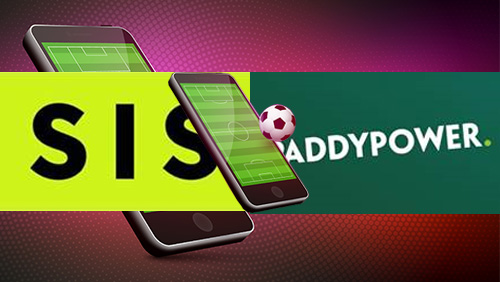 Paddy Power is the first bookmaker to benefit from SIS's latest production technology, Complex Automated Production (CAP), which significantly streamlines the production process, allowing the operator much greater autonomy and flexibility over specific schedules across different shops. CAP enables operators to access a greater variety of content, broadening the appeal of shops to newcomers.
PPTV will further build on Paddy Power's unique, market-leading brand with integrated specials and television adverts, creating a more fulfilling customer experience.
Michael Ahearne, Director of Product and Innovation, Retail at Paddy Power, said: "Paddy Power always aims to use the latest technology to ensure we're providing our customers with the best product available, and SIS's newly-developed and innovative CAP is one of these tools.
"Our high-street customers now benefit from a tailored, enhanced broadcast through Paddy Power TV, and in the short time it's been available, the feedback has been very positive across the board.
"The flexibility and strong variety of content that SIS can provide is of great benefit to our shops and we expect Paddy Power TV to engage customers for years to come."
Paul Witten, Commercial Director at SIS, said: "This is a landmark deal in retail betting live pictures broadcasting, with our innovative new CAP technology able to offer Paddy Power a flexible and affordable branded TV channel for its customers.
"We continually strive to ensure that our products are relevant to operators' needs, and recent technological advancements by SIS have allowed for a much more streamlined version of our retail TV channel broadcasts.
"We are pleased that such a high-profile operator such as Paddy Power has chosen to implement it into their large retail estate."
About Paddy Power Betfair plc
Paddy Power Betfair plc is one of the leading sports betting and gaming groups in the world. The business was formed from the February 2016 merger of Paddy Power plc and Betfair Group plc and has four divisions: Online, Australia, US and Retail. The retail division operates over 600 Paddy Power betting shops across the UK and Ireland, employing 5,000 people.
About SIS
SIS (Sports Information Services Ltd) is a leading supplier of products and services to the online and retail betting markets and has been at the heart of global bookmaking for more than a quarter of a century. SIS delivers multiple channels of live racing, data and commentary from racecourses and greyhound tracks in the UK, Ireland and across the world.
In addition to trusted satellite delivery, SIS has developed its own low latency streaming platform – SIS Stream, which delivers quick, secure and high-quality pictures, data and virtual content across the globe. SIS continues to develop innovative solutions to suit bookmakers at all levels of the industry, and now provides competitive pricing for UK, Ireland and international horse racing, along with greyhound and other sports via its Trading Services offer.
For more information about SIS please visit www.sis.tv
Comments