Poipet, Cambodia, July 2017 – A couple of mighty fist pumps flew in the air after Aik Chuan shipped in two enormous pots at Day 2 of the APT Main Event to send his stack skyrocketing. The Malaysian pro closed the day as the chip leader with a commanding 384,800 in chips.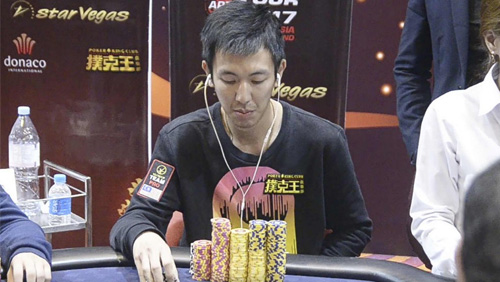 Chuan's big day at the felt didn't quite start on the up side. One hour into the starting buzzer, Chuan paid out a costly double up to Viet Hung Nguyen with pocket aces dominating pocket nines. Another round in, he paid out pocket aces again, this time to Daniel Tan who landed a set on a board of 3♥ 6♣ A♥ 8♣ Q♦ well ahead of hisA♠ 3♠ two pair. While these two hands dragged his stack down to the middle of the pack, he made up ground by ousting the APT Macau 2017 Main Event champion Choong Kian Weng.
It wasn't until midway through the next level in a hand against Nguyen did Chuan's game take a big turn. With the blinds at 600-1200 ante 200, Chuan raised to 3K preflop then called Nguyen's three-bet to 8500. At the flop of 9♠8♥ Q♠, Nguyen continued for a 12K bet then faced a dilemma for his tournament life when Chuan shoved it all in. While Nguyen deliberated, Chuan chimed, "time to get my chips back", clearly referring to the pocket aces earlier. Nguyen eventually called and opened up A♥ Q♥ top pair ahead of Chuan's 8♠ 5♠ flush draw.
But of course we know what happened next. A spade came down on the turn, K♠, and Chuan charged to the chip leader's seat. Moments after, Chuan also delivered the next elimination, railing Jiang Yuhong with his Q♦ 9♦straight over K♦ 10♥ two pair on a board of J♣ 3♠ 5♥ 10♦ K♥.
The unofficial final table started off with the day's entering chip leader, Alan King Lun Lau claiming the first pot. Throughout the day, Lau bobbed in and out of the leader's seat and for the most part, stayed on the upper tier of the chip rung. However his pursuit for greater heights came crashing down.
With blinds at 1000-2000 ante 300, two players limped in, Chuan raised to 11.8K on the button, and Lau three-bet to 36.5K from the small blind. Much too much, everyone folded except Chuan with a flat-call. On the flop of 9♦ 9♠2♥, Lau fired out a 28K bet, and after assessing the board for two minutes, Chuan smooth-called. On the 4♥turn, Lau wasted no energy counting chips and simply moved all in for his last 82.2K. Once again, this gave Chuan something to think about but with a sizable stack backing him up, he tossed in the call. It was a good decision for hisJ♠ J♥ was ahead of Lau's A♣ Q♣. The river 2♠ sealed the victory and Chuan claimed his second big takedown.
To end Day 2, China's Liu Yi eliminated Wong Wai Hong to deny him a spot in tomorrow's final day. On a flop 7♦7♣ 8♦, Yi check-raised all in and Hong called, putting himself at risk. Hong had Q♦ Q♠ and Yi with J♠10♣ gutshot. The turn 5♠ was no help for Yi but the 9♥ river was exactly what he needed for a lucky straight. Yi bagged up 307,000 to take second rank in the pecking order.
One player who had an erratic day at the felt was China's Hailong Huang. Huang managed to hold on to some chips at bagging time however it was way below average stack. His biggest challenge came during the short-handed round with twelve players remaining. He doubled up Japan's Mitsuru Sano with A♣ J♣ far behind 8♣ 8♥on a spread of 5♦ 2♠ 8♦ 9♣ J♦. Lau and Sam Ng also shaved some off to cripple him for the rest of the day. He bagged up 65,400 in chips.
Here are the final eight contenders of the APT Main Event.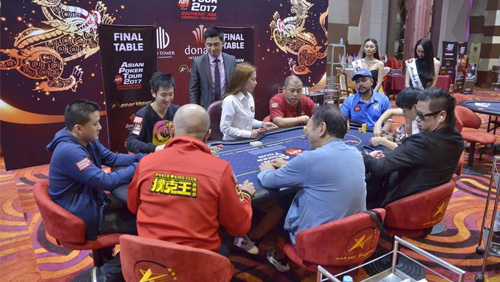 Final Table
Seat 1: Hailong Huang – 65,400
Seat 2: Paphawin Laodee – 75,000
Seat 3: Liu Yi – 307,000
Seat 4: Mitsuru Sano – 137,100
Seat 5: Tetsuya Tsuchikawa – 93,900
Seat 6: Sam Ng – 143,600
Seat 7: Daniel Tan – 42,400
Seat 8: Aik Chuan – 384,800 (chip leader)
They will return on Thursday, July 6th at 1pm for the last hurdle to victory. Only five players will reach the money round. None of the players are bubble protected. Average stack coming into today is 156,263 which means other than the two leaders, Chuan and Yi, everyone else is below the median.
Live updates will be available tomorrow, 1pm so make sure to bookmark link.
Payouts
1st USD 19,380
2nd USD 12,130
3rd USD7,280
4th USD 5,340
5th USD 4,370
Day 1A recap
Day 1B recap
For your viewing enjoyment, you can watch daily highlights of the APT Southeast Asia 2017 in the APT YouTube channel.
For media inquiries, you may contact:
Monique D. Suñega
Email: [email protected]