Poipet, Cambodia, July 4, 2017 – Day 1A of the APT Main Event is in the books and sitting at the top is a very familiar face, Malaysia's Choong Kian Weng. Two weeks ago Weng crushed the APT Macau Main Event to capture his first-ever APT championship title.3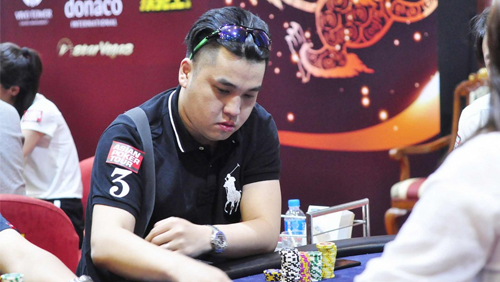 Main Event Day 1A Chip Leader, Choong Kian Weng
The early rounds didn't start off very well for Weng. He was one of the first players to hit the rail but with late registration still open, he quickly re-entered. On his second bullet, Weng's stack fluctuated in and out of average stack, not really getting too big nor too short. It was only during the final hands of the night did his stack soar to the leader's seat after shipping in two massive pots.
The first winning hand saw three players stare down a flop of 10♦ 6♣ 3♦. One player shoved, and without batting an eyelash Weng joined him, putting himself at risk of elimination. Seeing the heated action, the third player opted to fold while revealing his 7♦ 5♦ flush draw hole cards. At the showdown, Weng turned over 10♠ 5♥top pair and was up against his opponent's A♦ 2♦ nut flush draw. The 7♥ turn and 10♥ river secured Weng the victory and he was awarded a huge double up.
With a hefty stack in front of him, Weng proceeded to win the next hand, railing Linh Tran in the process. Tran moved all in on a turn board of 6♣ 9♥ 3♣ 8♥ and Weng snap-called. Tran showed K♣ 7♣ and Weng opened up A♥ A♠. Although Tran had many outs that could have helped him, the 6♥ was not one of them. To cap off the night, Weng also won the last hand to bag up 98,850 in chips.
Earning the second position of the chip rung was another familiar face, China's Hailong Huang who won the Head Hunter event last night. He also placed 5th at the NLH Welcome Event. His impressive performance continued, and throughout Day 1A he was a force to reckon with. Huang amassed a very large stack early on and if not for Weng's late surge, he would have surely been the chip leader. Huang bagged up 91,875 in chips.
Day 1A closed with 14 players remaining. Included in that list was Japanese pro Tetsuya Tsuchikawa who claimed the first trophy of the APT Southeast Asia 2017 by winning the NLH Welcome Event.
Day 1B of the APT Main Event takes place tomorrow, July 4, 2017 promptly at 1pm. This is the last entry flight to the highlight tournament. Bubble protection will be in effect.
APT Main Event details
Norbert Koh reigns at the NLH One Day Event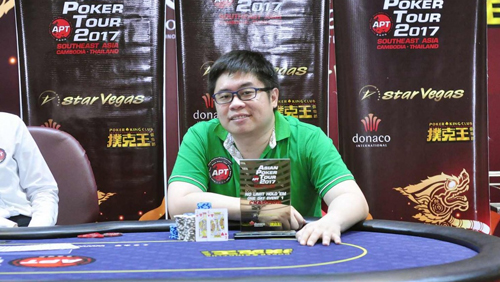 While the APT Main Event was up and running, Singapore's Norbert Koh celebrated a victory at the NLH One Day Event 1, the only side event offered today. Although the field was light with only 15 players at the felt, there was still no shortage of highlights with Koh eliminating the last three players in his path.
We picked up the action right where it mattered, at the bubble round with four players remaining. Koh was the man in charge with the largest stack, one he used to grind down the others. When Paphawin Laodee moved all in with his short stack, Koh called but was unable to deliver the bubble. Laodee's A-4 found a four on the board to overtake Koh's pocket twos. This however was just a momentary loan of chips because several hands later, Koh still sent Laodee packing as the bubble boy.
The three-handed bout kicked off with early fireworks.  Jiung Hyun raised all in on a flop of 4♥ 7♣ K♣, and with not much more to call, Koh obliged. Hyun had K♦ 3♦ top pair while Koh held A♦ 9♦. The 4♠ turn and 8♦ river gave Hyun the win.
However just like Laodee, the chips didn't last long with Hyun. They made their way back to Koh, this time in two installments. The first pot Koh's A♣ 3♣ straight dominated against Hyun's J♦ 10♥ on a board of 3♠4♣ Q♦ 2♦ 5♣, and on the second takedown Koh's J♥ 9♦ against 10♣ 4♣ landed two pair on a board of 10♥ 9♥ 8♥ 2♠ J♦ with the shoves happening at the flop. Hyun was out in 3rd place.
The heads up round saw the chip lead go back and forth between Koh and Jacques Jacquet. After numerous hands, the event finally came to a close with Koh holding K♥ J♥, Jacquet with J♣ 9♥, and a board that ran 4♣ Q♦ 4♦ K♣ 5♣. Koh claimed the USD 1,400 first prize and the fourth side event trophy of the series.
Payouts
1st Norbert Koh – Singapore – USD 1,400
2nd Jacques Jacquet – France – USD 900
3rd Jiung Hyun – Korea – USD 600
Side Events schedule
Running alongside Day 1B of the APT Main Event tomorrow, Tuesday July 4, 2017, are two side events. Here are the details:
NLH One Day Event 2
Buy-in: USD 220
Starting time: 3pm
Starting stack: 10,000
Starting blinds: 25-50
Blinds duration: increases every 20 minutes
WeLoveSport.com Deep Stack Turbo
Buy-in: USD 110
Starting time: 7pm
Starting stack: 10,000
Starting blinds: 25-25
Blinds duration: increases every 20 minutes
APT Southeast Asia 2017 schedule
For your viewing enjoyment, we have daily highlights of the ongoing poker festival in our APT YouTube channel
Comments