28th June, 2017 (Madrid, Spain) – R. Franco Digital, Spain's largest omni-channel gaming supplier, will display its market-leading online gaming solutions at Europe's largest dedicated igaming trade show, the iGaming Super Show.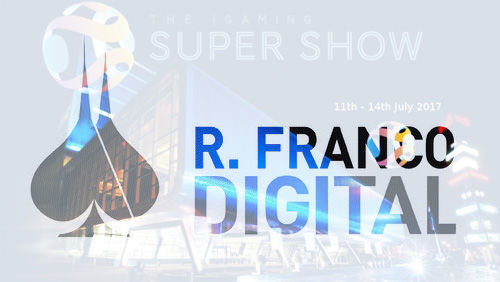 The Amsterdam conference, which is held at the Amsterdam RAI between 11-14 July, will feature a major presence from R. Franco offering unparalleled expertise in Latin America's emerging markets and beyond.
Stand P-8 will include demonstrations of R. Franco Digital's IRIS open platform, its omnichannel solutions and services including IRIS Powervault, R.F ON, and its selection of games.
Alejandro Casanova, Chief Digital Officer at R. Franco, said:  "R. Franco Digital is uniquely positioned to offer operators the products and expertise to enter in any regulated market. Recently we announced some deals in Latin America.
"We are able to leverage more than 50 years of heritage in the Spanish-speaking gaming world, combining it with digital excellence to offer a full omni-channel service."
"I welcome any operators in Amsterdam to drop by the R. Franco Digital stand to discuss how we can help you grow revenues in these markets."
To book an appointment with R. Franco Digital at the iGaming Super Show, please contact: ncampano@rfranco.com
For more information, please contact:
Square in the Air Communications
David Bartram
+44 (0) 20 3586 1978
About R. Franco Digital
R. Franco Digital is a proud part of the R. Franco Group, a 52-year-old leading multi-national gaming supplier to the land-based and online casino industry.
Comments