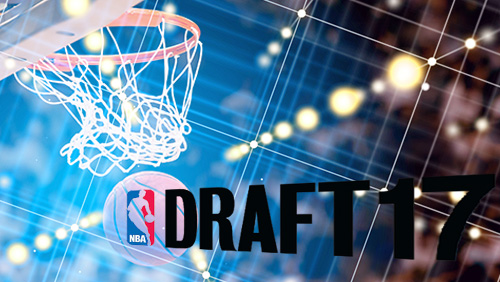 College freshmen could be selected with each of the first 10 picks in the 2017 NBA Draft on Thursday – if not more. The Over/Under on freshmen being picked in the first round is listed at 16.5, and the early part of the draft will likely determine if there are more or less than that number when the Utah Jazz make the 30th and final selection.
Odds courtesy of OddsShark.com
Leading the way are Washington's Markelle Fultz and UCLA's Lonzo Ball, who are expected to go 1-2 to the Philadelphia 76ers and Los Angeles Lakers, respectively. The 76ers acquired the top overall selection from the Boston Celtics, who now own the third pick. After Fultz and Ball are chosen, it's a toss-up regarding who will go next to the Celtics and Phoenix Suns, who have the fourth pick.
Boston could use some frontcourt help, so Duke's Jayson Tatum makes a lot of sense. Tatum is listed at -140 to go UNDER 4 while former Kansas standout Josh Jackson is an even bigger favorite at -175 to go UNDER 3.5. Both are freshmen like Fultz and Ball, and so is Florida State's Jonathan Isaac, who is -140 to be picked UNDER 6. Isaac could go to the Suns or Sacramento Kings with the fifth pick.
Other freshmen who will likely be selected in the Top 10 include Kentucky's De'Aaron Fox and Malik Monk plus North Carolina State's Dennis Smith Jr. Fox is the best of that group according to oddsmakers, as a -300 favorite to be selected UNDER 5. The Kings could also choose one of the two Kentucky guards in addition to Isaac, who may also stay closer to his alma mater if he is picked by the Orlando Magic at No. 6.
In addition, only one international player could go in the Top 10, and a sophomore may not be taken until No. 12 or later. France's Frank Ntilikina is the top European prospect, and UNDER 4 Internationals picked in the first round is a strong favorite at -200. Duke's Luke Kennard might be the first sophomore, but OVER 12 is -140 chalk.
Comments