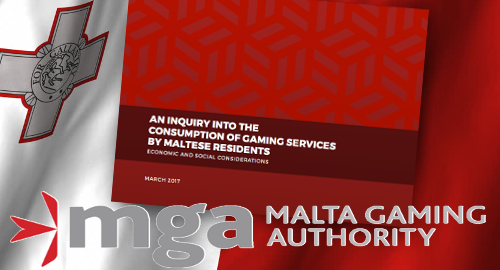 Malta's residents spent nearly 3% of their total household spending on gambling products in 2015, according to a new survey by the local gambling regulator.
On Wednesday, the Malta Gaming Authority (MGA) published the results of its first survey into the gambling habits of local residents. The report (an abridged version of which can be read here) is based on 1k responses to a survey conducted in January 2016 covering gambling activity over the preceding 12 months.
The report indicates that 195,300 Maltese residents engaged in some form of real-money gambling in 2015, representing nearly 56% of the adult population. Total gambling spending was around €125m, equal to 2.8% of total household consumption expenditure and around 2.4% of average gross household income. Gambling accounted for roughly one-quarter of recreational and cultural activity spending.
The National Lottery claimed the biggest slice of gambling spending at 41%, well above the 28% spent at gaming parlors/outlets. The rest of the pie was divided between casinos (16%) and the bingo-derivative Tombola (13%), while online gambling and 'games with friends' each managed only a 1% ranking.
Interestingly, online gambling was most popular among two very different age demographics, with relatively equal scores notched by those in the 18 to 24-year age group and those aged 43 to 59 years. Both demos' preference for online gambling was roughly double that of those aged 25-34 years and 35-44.
Average weekly expenditure of Maltese gamblers was €12.30, roughly equivalent to 1.5 hours of Malta's average wage in 2015. In terms of gaming verticals, average weekly spending at casinos ranked significantly higher at nearly €27, although only 4% of respondents reported patronizing casinos in 2015.
Around 46% of respondents reported engaging in some form of free-play gaming activity, with online social casino games the most popular form of free-play gaming.
The average Maltese gambler spent around 30 minutes per week engaging in their chosen form of gaming recreation, with games with friends ranking highest at 122 minutes, followed by Tombola (70 min.), casinos (61 min.) and remote gaming (49 min.).
The survey indicates that the number of Maltese gamblers who reported "lifestyle sustainability problems" due to their gambling activity is between 1% and 2%, roughly equal to or lower than rates reported in other gaming jurisdictions. While around 9% of respondents reported spending over 10% of their income on gambling, the vast majority of respondents spent less than 2%.
Comments