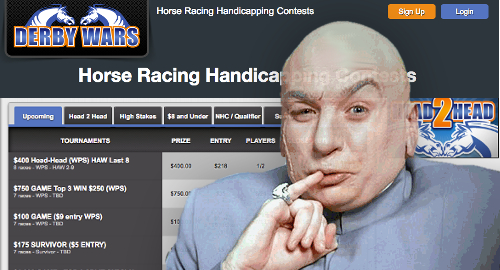 Horseracing fantasy contest operator DerbyWars could pay up to $1m to resolve a lawsuit brought by racetrack operator Stronach Group.
Last month, a federal court in California ruled in favor of a lawsuit Stronach had brought against DerbyWars' parent company Horse Racing Labs (HRL) in December 2015. The court supported Stronach's view that fantasy contest entry fees were the equivalent of real-money wagers under the Interstate Horseracing Act (IHA) of 1978.
The ruling paved the way for Stronach to file a claim for monetary damages against HRL due to DerbyWars having offered fantasy contests on races held at Stronach tracks without compensating Stronach. At the time of last month's ruling, DerbyWars CEO Mark Midland suggested his company was considering an appeal but the parties have now reached a court-approved settlement.
The settlement approved on Tuesday by US District Court Judge James Otero calls for HRL to pay Stronach $1m in damages but this sum can be cut in half if HRL agrees to pay $250k within three business days followed by 12 monthly payments of $20,833 each. HRL has the option of paying off the outstanding amount faster if it's capable and so inclined.
Bloodhorse.com quoted Stronach's exec VP of content and media Scott Daruty expressing pleasure at the outcome of the case and gratification that the court had "confirmed our belief that cash-based handicapping contests are a form of wagering that requires consent."
The settlement will require HRL to secure permission from Stronach to offer fantasy contests on future races held at Stronach tracks, for which Stronach will undoubtedly charge HRL a fee. Prior to last month's ruling, HRL had signed a deal with the Hawthorne Racecourse in Illinois to pay the track a slice of contest entry fees on Hawthorne races.
Midland said HRL was obviously disappointed at the outcome but said the silver lining was the court setting "a clear path for horse racing contest operators to proceed under the IHA." Midland said HRL was "immediately signing new agreements with tracks" and predicted "a bright future" for DerbyWars.
The resolution of this case, which doesn't require HRL to admit any legal wrongdoing, represented the first instance in which a fantasy sports operator was deemed to be offering a gambling product. Legal eagles are still unclear on how much relevance the ruling has for non-racing fantasy operators, given the case's specific reference to the IHA.
Comments