Win 2 Tickets to Watch The World Series of Poker Live
Las Vegas, NV – World Series of Poker, the world's most prestigious professional poker league, and MMAG Group Inc., a leader in product development and branding have today announced the launch of SHOP.WSOP.com. This new e-commerce platform is your source for the exclusive licensed merchandise and apparel of The World Series of Poker.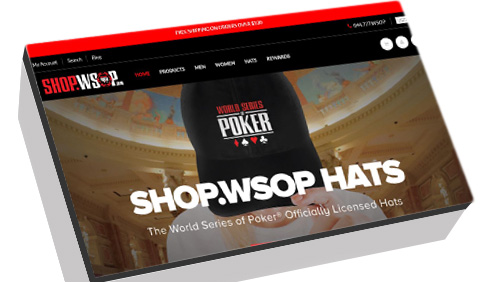 The site, featuring a diverse range of products including fitted hats, limited edition clothing and high quality merchandise such as custom poker sets, will also be featuring great giveaways and experiences for the poker enthusiast. The initial launch giveaway will be 2 spectator tickets to the final tournament table where you will be sitting directly in view of the ESPN camera's. Check back often as this is just the first of many great giveaways for the poker fan inside us all.
Shop.wsop.com includes a simple, user friendly layout, enhanced content, and an engaging mobile experience. With additional features such as the Poker blog, Social Media integration and the Loyalty Rewards program SHOP.WSOP.com allows for greater interaction with the brand. "We are pleased to announce the launch of this new platform and merchandise associated with it. World Series of Poker is an internationally recognized and respected brand and we look forward to building an e-commerce platform to match with the guidance of MMAG Inc." said WSOP Executive Director Ty Stewart
About the World Series of Poker
The World Series of Poker® is the largest, richest and most prestigious gaming event in the world, having awarded more than $2.4 billion in prize money and the prestigious gold bracelet, globally recognized as the sport's top prize. Featuring a comprehensive slate of tournaments in every major poker variation, the WSOP is poker's longest-running tournament in the world, dating back to 1970. For more information on the World Series of Poker, please visit www.wsop.com.
About SHOP.WSOP.com
The premier source of official licensed merchandise of the World Series of Poker. Hats, hoodies and more for the professional poker player in you! For more information on SHOP.WSOP.com please visit shop.wsop.com
About MMAG Group Inc.
MMAG Group Inc. is a venture capital firm specializing in product development and brand strategy for a diverse portfolio of products and companies. For more information on MMAG Group Inc. please visit www.mmaginc.com.
Comments