Worldpay predicts a 40% increase in online gambling activity ahead of election
June 2017 – London — Worldpay, a global leader in payments, is expecting a significant boost in online betting volumes as political gambling takes a hold of the UK ahead of this year's general election.
The data, looking at the increase in betting around last year's Brexit referendum and the 2015 general election, shows that betting on political events is rising by nearly 10% year-on-year. If this trend continues, online bookmakers may see betting volumes soar by as much as 40%, compared to an average day.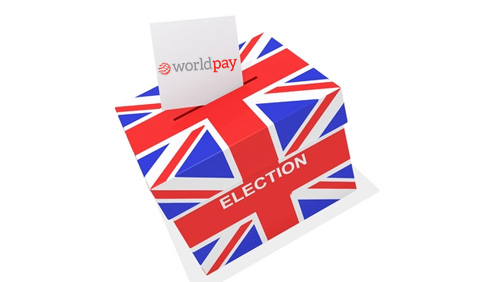 Worldpay's analysis of gambling data from last year's Brexit vote found that online betting volume was up by 30% on the day of the referendum, and turnover was also up by 32% compared to that of an average day. With reports of wagers up to £360,000 being placed on this year's election, there's no doubt that David Dimbleby won't be the only one up all night keenly watching the results roll in.
A further analysis around the 2015 general election also found betting volumes to be up by 21% compared to that of an average day. The jump in wagers from the general election two years ago compared to Brexit last year, shows a growing market for political betting. As bookmakers create more and more opportunities to have a flutter, politics is proving to be one of the more popular options for speculative punters.
James McGurn, VP Growth – Digital Content & Gaming at Worldpay said:
"What was once seen as a one horse race is suddenly becoming a much more interesting competition. Just a few weeks ago, people were seeing this as a dead certainty with there being little point in placing a wager. Now, as the polls become narrower and it starts to look like anything could happen, punters will be having a hard think about where the best returns lie, and realistically, who could be the next prime minister. With the spate of surprise results we've had recently, bookies could be in for the biggest day of political gambling to date."
About the data
Figures quoted are according to Global eCom transaction data for Worldpay's regulated gambling customers during the 7th – 8th May 2015, 14th – 15th May 2015, 23rd – 24th June 2016 and 13th – 17th July 2016 , and includes more than 150 of the biggest names in the gambling industry. Worldpay processed a total of 14.9bn transactions at a value of £451.1bn in 2016.
About Worldpay
Worldpay is a leading payments company with global reach. We provide an extensive range of technology-led payment products and services to around 400,000 customers, enabling their businesses to grow and prosper. We manage the increasing complexity of the payments landscape for our customers, allowing them to accept the widest range of payment types around the world. Using our network and technology, we are able to process payments from geographies covering 99% of global GDP, across 146 countries and 126 currencies. We help our customers to accept more than 300 different payment types.
For more information, visit http://www.worldpay.com/global