At the hotly contested EGR B2B Awards, Gamevy scooped the 2017 Award for best Skill Games Supplier. This is the second year running the industry newcomer has taken the prize, seeing off competition from several other well-respected i-gaming companies.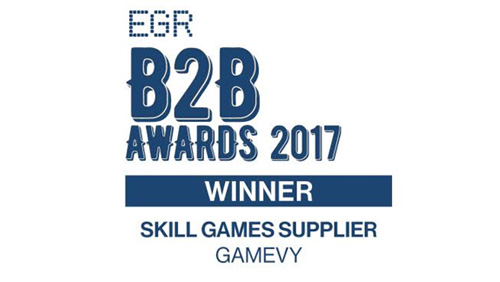 Skill and Instant Win is an area that the most innovative bookmakers and online casinos are looking at with interest – a way to broaden their appeal and offer unique content. Already, those experimenting with a more interactive type of instant win game are seeing promising results.
"This has been a busy year for Gamevy," says Helen Walton, co-founder and Chief Commercial Officer, "we've launched a range of new games and we're working on some really exciting projects! It's brilliant to see the industry taking notice of new types of games – ones which really engage players and offer them a more entertaining experience.
Skills gaming is an area with enormous potential for growth – it appeals to a younger, but broader demographic, it encourages responsible play and it helps operators really stand out from the crowd. As far as we're concerned, the skills revolution is just beginning – and we're thrilled to be on that journey."
Gamevy was founded on the insight that most real money games were overly dependent on chance and were growing ever more distant from the type of games people enjoyed playing on their mobile each day. The success of blackjack and poker seem to suggest that careful mix of chance and skill with real money can really appeal to players – why then do lotto, scratch and slots and the vast majority of the casino tab stay so far away from skill and player agency?
Gamevy believes in putting players in charge – ensuring that their actions have a real impact on the game's outcome – and by producing games where players can learn or improve, they see improved retention rates, as well as appealing to a different type of player to a traditional slots and casino audience. With hugely ambitious plans for product releases over the next year, Gamevy promises to keep innovating – collecting customer plaudits as well as industry awards.
For further information, please contact:
Helen Walton [email protected] 07906 236870
About Gamevy:
Gamevy builds instant win games that put the player in charge. Offering entertainment as well as big prizes, their games are live across Europe and have proved a hit with a broad demographic of players. Based in London, Gamevy is licensed and regulated by the UK Gambling Commission and the Gibraltar Commission.