VANCOUVER, BC – June 2017 – ESP has partnered with CS:GO and League of Legends journalist and analyst Duncan "Thorin" Shields. ESP plans to use this partnership to reinforce their presence in the esports industry as the go-to destination for esports fantasy and betting.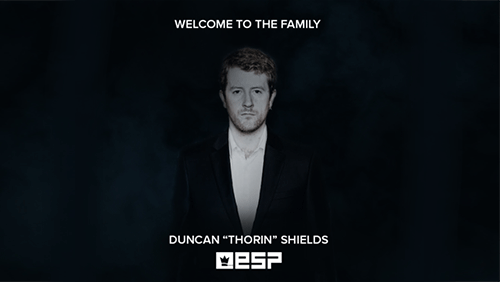 Since 2001, Thorin has been known as "the esports historian" for his knowledge of game, team, and player history. Making a substantial impact in both the CS:GO and League of Legends scene, he has become a household name in these communities for his Youtube shows and colourful commentary.
ESP has considerable experience when it comes to leveraging large partnership deals. After their official launch in 2015, ESP partnered up with influential gaming organizations Natus Vincere (Na'Vi), Vexed Gaming, and StatsHelix. In 2016, ESP partnered with the popular CS:GO team, Flipsid3 Tactics. During these partnerships, ESP developed a strong foundation within the industry as an ethical, reliable, and exciting fantasy and betting esports company.
I am very excited to work with ESP moving forward. There are many shady betting sites trying to enter the esports space. However, ESP is nothing like that. They make sure everything is done by the book, ethically, and they care about the safety of the users. ESP's product is very well cut, and I am looking forward to using it myself.
 – Duncan "Thorin" Shields
"We have been talking to Thorin for a while now, and I am ecstatic to have him officially representing ESP. Not only do I find Thorin to be a great person to work with, but I am also a huge fan of his content. I can't wait to see what Thorin and his influence in the esports scene can do for ESP."
 – Scott Burton, CEO at ESP
To accompany this partnership, ESP will load up the www.esportspools.com site with more promotions than ever before.
"To celebrate our collaboration with Thorin, ESP is offering a huge number of giveaways and fantasy pools to all customers, new and old. Thorin will provide his trademark Thoughts and Reflections on Youtube for esports events that are happening around these epic promotions," said Carlo Scappaticci, Chief Marketing Officer at ESP.
Thorin will attend a wealth of events throughout the year under the ESP brand, first of which will be the CS:GO PGL Minor during June 15 to 18.
Comments