Supplier aims to make an impression with its latest instant win release
Thursday 1st June, 2017 – IWG – a world leader in supplying online, instant win games – is set to add a new dimension of fun to instant win gaming with the launch of Emoji Money®.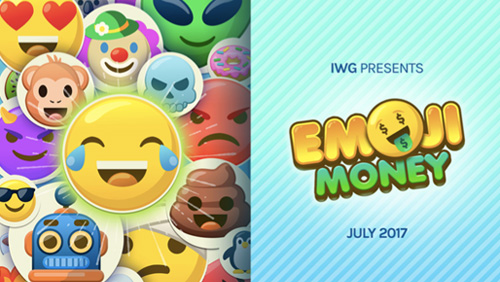 IWG's latest release draws inspiration from the emoji, which is one of the best-known and frequently used digital messaging techniques in the world.
Developed and designed with a mobile-first approach, Emoji Money® is sure to provide a fun, playful and engaging experience whether playing at home or on the go.
The fast-paced game is set to be released in July to coincide with the launch of the highly-anticipated summer feature film, The Emoji Movie.
Leon Thomas, Chief Commercial Officer of IWG, said: "As a leader in both online gaming and innovation, Emoji Money® is the perfect fit with players who enjoy instant win gaming on the go.
"Every day millions – if not billions – of people around the world enjoy using emojis. It's hard to think of a more fun and playful theme for an instant win game."
IWG has provided a full online instant win service to lotteries for over 15 years, producing more than 250 high quality instant win games. It has recently been shortlisted in the online lottery supplier of the year category at the 2017 EGR B2B Awards.
The company now also offers its content to commercial brands including GVC and Rank Group.
For more information, please contact:
Square in the Air Communications
Ben Cleminson
+44 (0) 20 3586 8267
About IWG
IWG is a world leader in supplying online, instant win games to lotteries and commercial brands and platforms in the online gaming industry. It has over 12 years' experience of making top selling, high quality instant win games and the strategic know how to make them work.
IWG has launched over 300 games that perform consistently at the highest level, engaging and retaining players while driving excellent results for customers. It has the knowledge to deliver a winning portfolio of games, the experience to make it grow and the sales figures and data to back this knowledge up.
IWG delivers an end-to-end solution covering all aspects of game development and portfolio management and a Remote Game Server (RGS) delivering content in multiple regulated jurisdictions from data centres in the UK, Gibraltar, Canada and North America. It has a broad library available via the RGS with games covering many proven themes and mechanics that can be developed into an ideal offering for a partner's instant win portal.
Comments