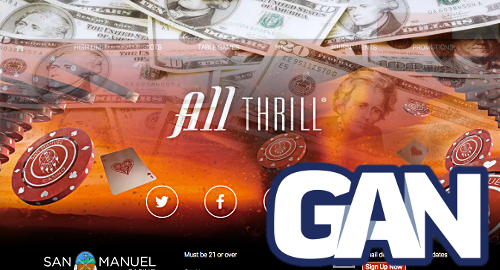 Online casino technology provider GAN reported narrowed losses in 2016 thanks to revenue rising nearly one-third.
Figures released Tuesday by the UK-listed GAN (formerly GameAccount Network) show the company generated net revenue of £7.8m last year, up 30% from 2015's result. B2B revenue was up 37% to £7.4m while the company's comparatively minor B2C operations fell nearly one-third to just over £400k.
While the company says its 'clean earnings' loss was down 69% year-on-year to £900k, the company reported a pre-tax loss of £5.2m, down only marginally from £5.6m in 2015. After-tax loss came to £3.8m, a bigger improvement from 2015's £5m, thanks in part to development tax credits.
As he did in 2015, GAN CEO Dermot Smurfit blamed much of his company's sluggish performance on the "slower than expected" pace of real-money online gambling regulation in the United States, where GAN derives most of its income. But Smurfit said GAN's free-play Simulated Gaming product will "more than adequately compensate" for US laggardness in hopping on the real-money online train.
GAN inked five new brick-and-mortar clients for its Simulated Gaming product in 2016, including JACK Entertainment, Station Casinos and the Chickasaw Nation, while launching the product with three clients. So far in 2017, GAN has launched free-play operations with four new casino clients, bringing the company's total number of US casino partners to 13.
GAN recently received its official real-money online gambling license from New Jersey gaming regulators, several years after helping launch Betfair's New Jersey-facing online casino. GAN has also inked a deal to provide a real-money platform for Atlantic City's TEN (the former Revel) if and when its new owners secure the necessary gaming licenses.
Smurfit says GAN remains optimistic regarding Pennsylvania's chances of approving real-money online play this year. GAN has a deal in place to serve as real-money online technology partner for the state's Parx Casino should legislators not fall short of the finish line yet again.
Comments