25th May, 2017 (London) – The 2017 iGaming Super Show is proud to announce that it will host this year's Global Lottery Messenger Forum (GLMF), the industry's leading lottery-focused event.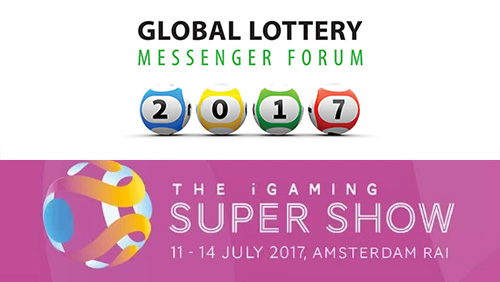 The GLMF, now in its fourth year, will feature more than 100 industry executives from 19 jurisdictions, and will include top-level contributions by leading speakers. It is the best opportunity in the calendar to meet this growing industry's key decision makers.
Delegates can expect a full day of networking and learning, with information and analysis delivered by expert speakers
Tickets for the 2017 event, which takes place on Tuesday, 11th July and will also host a dinner during the evening, are available now for £499.00 + VAT.
Shona ODonnell, Event Director at iGaming Business, said: "We are absolutely thrilled to welcome the Global Lottery Messenger Forum to its new home at the iGaming Super Show, where it joins a growing stable of events that makes the show the industry's most complete.
"Lottery is a vital part of our sector, so it will be a fantastic opportunity to learn from and network with its brightest minds."
The GLMF is proudly sponsored by SaltarPay.
Stuart Ballan, CEO at SaltarPay, said: "The Global Lottery Messenger Forum is the only global, annual event for the lottery messenger and betting on lotteries industries, and a brand for diverse, relevant industry education, complemented by excellent, global networking opportunities.
"With the industry trending towards betting on lotteries, regulation, and strong gaming operators, partnering with iGaming Business takes GLMF mainstream, leaning on their massive international conference organising experience, complemented by their strong involvement in the gaming industry."
For more information on the GLMF at the iGaming Super Show, please visit: http://www.igamingsupershow.com/events/global-lottery-messenger-forum
For more information, please contact:
Square in the Air Communications
David Bartram
+44 (0) 20 3586 1978
About iGaming Super Show 2017
The iGaming Super Show is the biggest dedicated iGaming exhibition and conference for the igaming industry and is guaranteed to meet your needs from a networking, education and business perspective. In 2017 we are expecting over 4,500 delegates, 100+ speakers and over 120 stands. The 2017 iGaming Super Show will have eight events in one location including dedicated payments, regulation and compliance, sports betting, binary/financial and affiliate events.
About iGaming Business
iGaming Business is the most established and respected information provider for the interactive gaming and gambling industry. Now entering its fourteenth year of business, it provides the latest news, analysis, research, data and insight to senior level executives in the iGaming space. It also hosts some of the industry's most successful events, including iGaming Super Show, as well as the iGB Affiliate event series which includes the Berlin Affiliate Conference, the London Affiliate Conference and the Amsterdam Affiliate Conference.
iGaming Business takes pride in the fact that its editorial and content is written for the reader and not the advertiser. By taking a strict editorial stance and having industry experts contribute to its magazine and online content, it gives its readers the tools and resources to improve business performance.
Comments