Kindred Futures and the startup tech company Lucky VR will produce an experimental virtual reality poker game during Unibet Open Copenhagen using esports stars as guinea pigs.
PKR pioneered 3D software for online poker.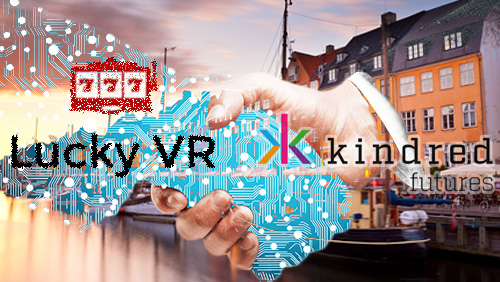 You have to be brave to be the first to try something new, and this week it's the turn of Unibet after Kindred Futures partnered with the startup software developer Lucky VR to experiment with a virtual reality (VR) poker game.
The live and slightly experimental VR poker game takes place at the Unibet Open Copenhagen and doesn't feature any poker players. Instead, nine esports athletes who are at the Radisson Blu Scandinavia Hotel to appear in Unibet's esports Battle Royale V will be the guinea pigs.
The likes of Sophia 'djarii' White, Craig 'onscreen' Shannon, and Alan "Hotted89" Widmann will don the Oculus Rift headsets to compete in the VR tournament on Thursday 25 May between 9-10.30 BST, and you can catch all of the action live on Unibet's Twitch channel.
It won't be the first time that Lucky VR has partnered with an online poker entity to trial their VR software. 888Poker Ambassador Parker "Tonkaaaa" Talbot once trialled the software live on his Never Lucky Twitch channel.
Will Mace, Head of Kindred Futures, and previous guest on CalvinAyre.com told the press that he wanted to trial the software before it became mainstream and revenue earning with an intention to experiment and learn from feedback to deliver the very best playing experience in the future.

Let's hope VR catches on a little quicker than 3D.
Unibet Open Copenhagen operates 25-28 May with the beating heart a DKK8250 buy-in No-Limit Hold'em Main Event.
Virtual Reality Can Cure Your Backache
Professional poker players are plagued with back issues thanks to countless hours sitting on their big fat bums, but VR may be able to ease the pain.
In a recent study published on the community research site, PLOS One, a group of 30 test subjects suffering from various forms of chronic pain were handed an Oculus Rift headset and told to explore a virtual world filled with trees, hills, snowy scenes, caves, flames, and some lovely, lovely otters.
Feedback from the group during their trip into the fantasy world showed a drop in pain by some 60%. Sound, but what happens when they have to return to the land of mass school shootings and suicide bombers?
Research showed that even without the VR goggles the chronic pain had subsided by as much as 33%, equivalent to a shot of morphine. So if you can manage to wear the headset and not puke, then there seem to be some real gains for poker players who suffer from lower back issues.
Alternatively, just plug into a few hours of VR porn as I am reliably informed banging away at a VR model will also take your mind off chronic pain by as much as 100%.
Comments