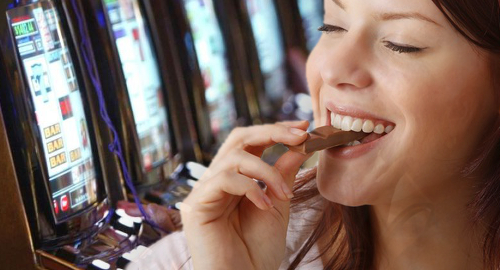 An Australian politician isn't backing away from controversial comments likening problem gambling behavior to excessive chocolate intake.
Australia is awash with video poker (pokies) machines, with an estimated 200k pokies scattered across casinos, pubs and clubs. Pokies are considered a primary source of the nation's ranks of problem gamblers and various proposals have been put forth to limit pokies-related harm, including pre-commitment technology that allows punters to set spending limits in advance.
More recently, the Australian Capital Territory (ACT) has been considering a Greens Party proposal that would impose a daily $250 'cash out' limit on eftpos (debit card) terminals in clubs that also offer pokies. The eftpos terminals were introduced in 2014, shortly after the ACT imposed a similar withdrawal limit on clubs' automated teller machines (ATM).
On Thursday, the ACT's Liberal party's gambling spokesman Mark Parton rose in the Assembly to criticize the Greens plan. Parton said clubs depend on punters being able to get cash for purposes other than gambling and begged his fellow pols "to exercise tolerance and refrain from using blunt force."
Parton rubbished the idea that withdrawal limits would result in any lessening of problem gambling behavior, suggesting that new limits would only "improve the aerobic fitness of problem gamblers as they walked around the corner to the nearest ATM."
Parton further declared that the city of Canberra's problem gambling rate – 0.4% of the adult population – meant there were likely "more people addicted to chocolate in this town than are addicted to gambling."
Parton's comments set off a firestorm of protest from people accusing him of trivializing the subject of problem gambling but an unrepentant Parton went on ABC Radio Canberra on Friday to defend his remarks.
Parton noted that obesity and its associated diseases was "one of the biggest problems facing this country" and that "many people" undoubtedly "go out and buy copious amounts of chocolate." The Australian Bureau of Statistics supports Parton's claims, as roughly two-thirds of Aussies are considered either overweight or obese.
Parton expressed doubt that the government would dare to introduce legislation that would "go down the path of restricting people access to their money to purchase chocolate." Parton insisted that there was a "wider issue" at play here, as "what we are talking about is freedom. It's not for governments to decide what people spend their money on."
Comments