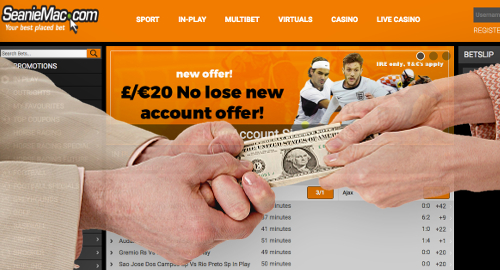 Irish online gambling operator SeanieMac's financial difficulties have resurfaced in the media after a punter went public with his inability to withdraw nearly a quarter of a million pounds from the site.
On Thursday, The Guardian reported that an unidentified punter was threatening to take legal action against SeanieMac's parent company, Sportsbetting and Gaming Services (SGS), due to the site's unwillingness and/or inability to honor his attempts to withdraw £245k from his online betting account.
The punter claims to have opened his SeanieMac.com account last December, after which he went on a prolonged hot streak. The punter made his initial withdrawal request in March but has yet to receive a penny, despite repeated follow-up requests.
The last communication the punter had with the site was on April 21, when SeanieMac's COO Garreth Core informed him that "our partners are not in a position to release the funds until we send the funds from the US … please believe I am doing everything I can to get you paid as soon as possible."
The Guardian received an email from SGS CEO Steve Fisher indicating that there were a "small number of high-staking customers" having difficulty getting money from SeanieMac. Fisher said that he was pushing SeanieMac to honor the debts but promised that "SGS will step in to make payment in full after exhausting all other options."
Fisher said SGS and SeanieMac had "come to an arrangement whereby funds will be released shortly in order to pay all outstanding customer balances." Fisher says he's been a bookmaker since 1971 and "in all that time I have never welshed on any bet that I have been responsible for laying."
HOW DID WE GET HERE?
Last August, the Irish Independent reported on SeanieMac's financial shortcomings, warning that the site could be forced to close if it couldn't raise additional outside capital. SeanieMac CEO Shane O'Driscoll hit back at these reports, claiming the paper had vastly overstated the scale of the problem.
In January, the company announced that it had secured a $7.5m credit facility from TCA Global Credit Master Fund, although only the first $500k was made available immediately and further draw downs were subject to SeanieMac's continued financial performance.
In March, SeanieMac released its Q4 2016 numbers, which showed "turnover revenue" of (US) $3.3m and gross profit of $250k. The profits were reinvested into customer acquisition in the hopes of pushing Q1's turnover revenue to $6.7m. The company also stated that it hoped to sustain this growth through Q2, provided it maintained "continued access to funding."
Still, bearish sentiment continues to weigh the company down. On Thursday, analysts reported that recent short-selling interest in SeanieMac had risen 9030%. The company's shares, which trade on the US-based OTC Bulletin Board, have lost 92% of their value since last October and continue to trend downward.
SGS holds the UK Gambling Commission license under which SeanieMac and its sister brand Apollobet operate in the UK. Last week, the UKGC-licensed poker site PKR abruptly shut down due to "recent financial difficulties," but, unlike the SeanieMac situation, no white knight has appeared on the horizon to ensure PKR customers that their funds are safe.
Comments