Week 36 of the English Premier League sees Chelsea send Middlesbrough back to the Championship and move within three points of the title with three games to play.

When Crystal Palace turned Chelsea into a bunch of fools on the first of April, football fans began to wonder. Then Chelsea took on the might of Manchester City and beat them 2-1.
When Manchester United beat Chelsea at Old Trafford two games later, those same fans began to wonder once again. Then Chelsea went on a four-match unbeaten run-scoring 14 goals and securing an FA Cup Final appearance beating Spurs.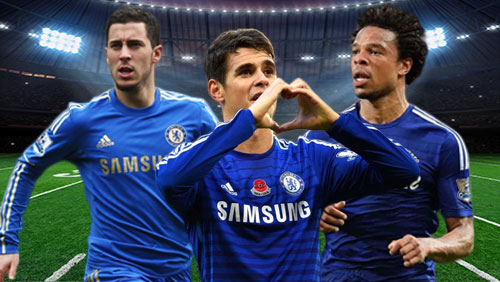 They deserve to be champions.
They will be champions.
Nobody thought Middlesbrough stood a chance in this one, and they didn't. Cesc Fabregas came into the side to replace N'Golo Kante and ran the show. The Spaniard set up Diego Costa for the opening goal in the 23rd minute and Nemanja Matic's final goal on 65, becoming the first player to make ten assists in six different Premier League seasons. Marcos Alonso squeezed one between the legs of Brad Guzan in the 34th minute.
The 3-0 win for Chelsea sent Boro down to the Championship with barely a whimper. They have failed to score in 11 away games in the Premier League, and go down for the fourth time – the only side to do so.
Boro has been tight at the back all season, and it was clear that Aitor Karanka hoped that solidity would be enough to survive. But you have to score goals in this division and Alvaro Negredo, Rudy Gestede, and Patrick Bamford aren't good enough for top flight football.
"I have just left a very silent dressing room," stand in boss, Steve Agnew told the press after the game. "The fans all season have been outstanding – home and away has been top class, and the least they deserve is Premier League football."

Chelsea boss Antonio Conte graciously applauded the Boro fans after his win. He has been a great addition to the Premier League, and if his side beats an ailing West Brom side at the Hawthorns on Friday night, he will lock up one of the hardest titles to win in the world in his first attempt.
Premier League Title Odds
Chelsea -25000
Spurs +5000
Chelsea Run In
West Brom (A)
Watford (H)
Sunderland (H)
Spurs Run In
Man Utd (H)
Leicester (A)
Hull (A)
Here are the rest of the weekend's results
Results in Full
West Ham 1 v 0 Spurs
Man City 5 v 0 Crystal Palace
Bournemouth 2 v 2 Stoke
Hull 0 v 2 Sunderland
Burnley 2 v 2 West Brom
Leicester 3 v 0 Watford
Swansea 1 v 0 Everton
Liverpool 0 v 0 Southampton
Arsenal 2 v 0 Man Utd
Chelsea 3 v 0 Middlesbrough
Premier League Table
1. Chelsea – 84
2. Spurs – 77
3. Liverpool – 70
4. Man City – 69
5. Man Utd – 65
6. Arsenal – 63
7. Everton – 58
8. West Brom – 45
9. Leicester – 43
10. Southampton – 42
11. Bournemouth – 42
12. West Ham – 42
13. Stoke – 41
14. Burnley – 40
15. Watford – 40
16. Crystal Palace – 38
17. Swansea – 35
18. Hull – 34
19. Middlesbrough – 28 (R)
20. Sunderland – 24 (R)
*Odds Courtesy of Bodog
Comments