The world of sport continues to evolve with the news that 17 of the 30 teams that make up the National Basketball Association in America have committed to join the NBA 2K eLeague in 2018.

I'm a little man.
I loved my football as a kid, but people told me I was too small to make it professionally. They were wrong. Sizeism isn't prevalent within the hierarchy of football.
Diego Maradona, anyone?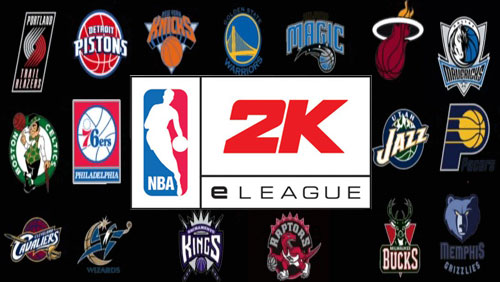 But if I were born in America and took a liking to basketball I would be screwed. My dreams would evaporate into the air like cocaine used to evaporate into that aforementioned little man's nose.
But times are a changing.
There is hope for the little man – sort of.
On Thursday, NBA Commissioner, Adam Silver, announced that 17 of the 30 teams that make up the National Basketball Association (NBA) would participate in the NBA 2K eLeague due for launch February 2018.
Here are those 17 teams:
1. Boston Celtics
2. Cleveland Cavaliers
3. Dallas Mavericks
4. Detroit Pistons
5. Golden State Warriors
6. Indiana Pacers
7. Memphis Grizzlies
8. Miami Heat
9. Milwaukee Bucks
10. New York Knicks
11. Orlando Magic
12. Philadelphia 76ers
13. Sacramento Kings
14. Toronto Raptors
15. Utah Jazz
16. Washington Wizards
17. Portland Trailblazers
As a Brit, whose knowledge of the NBA came from hours of playing on my Sega Megadrive the names of the Chicago Bulls and the Los Angeles Lakers are noticeable absentees. But Silver said in an interview with SportsCenter that every NBA team will be ultimately represented.
The decision to create an eLeague that will mirror the NBA is not a new concept. The French football Le Ligue is doing something similar. But it is a bold step and a clear indication of where the future of sport lies in this ever increasingly technological world of ours.
The days of telling your kid to get off his games and do his homework are over. What are you going to do if your child says they want to become a professional video gamer?
As Silver pointed out in that interview, video gamers from all over the globe will feature, irrespective of what size they are.
And they will be professional.
Silver explained that the eLeague would last five months, during which time there will be a regular season, playoffs, and a championship match, and there was confirmation that this would be a full-time job for those fortunate to play.
So how do you get a slot?
The commish kept his cards close to his chest but did reveal that somewhere down the line there will be a draft. So if you have a love for the game, you had better get grinding the NBA 2K tournaments online and open a Twitch account because marketability, as well as playability, will be a significant factor on draft day.
And there was no mention of money, but you can assume there will be some big bucks flying around.
Last year, over 100,000 qualifying teams played over 2.3m games in the NBA 2K16 Road to the Finals where a team called Drewkerbockers won the $250,000 first prize. As I type, over 500,000 teams are competing for another $250,000 prize in the NBA 2K17 All-Star Tournament Championship.
It will be interesting to hear Commissioner Silver's views on gambling on the outcome of NBA 2K games. In 2015, Silver penned an op-ed for the New York Times talking about the need to tap into a $400 billion illegal sports betting industry and said it was a matter of when and not if sports betting would hit the NBA. When that happens betting on the electronic version of the game will surely follow.
Comments