Week 36 of the English Premier League sees a seismic shift at the top and the bottom as the pre odds analysis go out of the window with some startling results.
So that's all it needed?
David Moyes commits his future to the club and Sunderland turn it on?
Sunderland has been stuffed 23 times this season, and Hull is not one of those teams. The Tigers couldn't even score a single goal against the worse team in the league by some considerable distance.
The timing could not have been anymore dismal. Marco Silva has turned the KCOM Stadium into a fortress. The Portuguese manager was unbeaten at home for any club he has managed in the past three years.
So how on earth did Hull lose at home to Sunderland, with only three games to go, and the club's future depending on a win?
Jordan Pickford and corner kicks.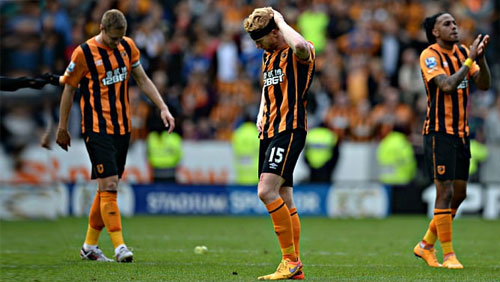 The young Sunderland goalkeeper was in astounding form to keep Hull at bay while at the other end Hull conceded their 13th goal from a corner kick (more than any other side) when Billy Jones was allowed to waltz into the six-yard box to get on the end of a John O'Shea flick. Jermaine Defoe scored a second for Sunderland in injury time.
News of Hull's defeat flew down the fibre optic cables and into the ears of the Welsh as Swansea settled down to play Everton knowing a win would take them out of the bottom three and wrest control of their future from the feet of Hull.
It was a critical game for Paul Clement's side. Everton had not lost in Wales since 1956, had qualified for the Europa League, and had the Premier League top marksman in their ranks.
If the Hull defeat was unlikely, so was a Swansea win against Ronald Koeman's side, but they battled valiantly to win by a single goal courtesy of a Fernando Llorente header at the far stick on 29 minutes. It was the big Spaniard's 13th goal of the season, and none have been as important.
Clement's puff of the cheeks at the end of the match said it all.
Despite dropping into the bottom three, Hull still has hope. Crystal Palace is right back in the fight after a 5-0 hammering against Man City, and if Hull wins both remaining matches, and Swansea and Palace don't, then that's the right tonic.
Palace has gone three games without a win, conceding eight goals, and scoring a big fat zero, at a crucial moment in the league. They went into the City match knowing they had overturned Arsenal, Chelsea and Liverpool, but City was awe-inspiring, led by the returning David Silva.
The little Spaniard opened the scoring after two minutes, Vincent Kompany scored his second in four games, and his fellow countryman Kevin de Bruyne was also on the scoresheet. Late strikes from Raheem Sterling and Nicolas Otamendi put an added sheen to the task.
It was an important win for Man City in the race for Champions League places after Liverpool's bore draw at home to Southampton. And Jose Mourinho told the press that he doesn't care about a Top 4 finish preferring to concentrate on winning the Europa League, and that lack of desire materialised in a dismal 2-0 defeat to Arsenal, their first loss in 26 games.
Spurs Fall to West Ham
Spurs title hopes were dealt a Thor-like hammer blow when they lost to West Ham by a goal to nil at the London Stadium on Friday night thanks to a Manuel Lanzini strike.
It was an excellent opportunity for Spurs to crank up the pressure, with Chelsea not playing until Monday evening, but a string of magnificent saves by Adrian and a lack of drive and energy prevented that from happening.
The Blues only need two wins from their final four games to lock up the title, and looking at their run in, that won't be a problem, starting with a home time against lowly Boro on Monday night.
Premier League Title Odds
Chelsea -10000
Sours +2500
Chelsea Run In
Middlesbrough (H)
West Brom (A)
Watford (H)
Sunderland (H)
Spurs Run In
Man Utd (H)
Leicester (A)
Hull (A)
Champions League Qualification Odds
Man City -5000
Liverpool -500
Arsenal +400
Man Utd +1400
Liverpool Run In
West Ham (A)
Middlesbrough (H)
Man City Run In
Leicester (H)
West Brom (H)
Watford (A)
Arsenal Run In
Southampton (A)
Stoke (A)
Sunderland (H)
Everton (H)
Man Utd Run In
Spurs (A)
Southampton (A)
Crystal Palace (H)
Relegation Odds
Middlesbrough 1/2000
Hull 2/9
Swansea 4/1
Crystal Palace 12/1
Middlesbrough Run I
Chelsea (A)
Southampton (H)
Liverpool (A)
Swansea Run In
Sunderland (A)
West Brom (H)
Hull Run In
Crystal Palace (A)
Spurs (H)
Crystal Palace Run In
Hull (H)
Man Utd (A)
Here are the rest of the weekend's results
Results in Full
West Ham 1 v 0 Spurs
Man City 5 v 0 Crystal Palace
Bournemouth 2 v 2 Stoke
Hull 0 v 2 Sunderland
Burnley 2 v 2 West Brom
Leicester 3 v 0 Watford
Swansea 1 v 0 Everton
Liverpool 0 v 0 Southampton
Arsenal 2 v 0 Man Utd
To Be Played (Mon, 8 May)
Chelsea v Middlesbrough
Premier League Table
1. Chelsea – 81
2. Spurs – 77
3. Liverpool – 70
4. Man City – 69
5. Man Utd – 65
6. Arsenal – 63
7. Everton – 58
8. West Brom – 45
9. Leicester – 43
10. Southampton – 42
11. Bournemouth – 42
12. West Ham – 42
13. Stoke – 41
14. Burnley – 40
15. Watford – 40
16. Crystal Palace – 38
17. Swansea – 35
18. Hull – 34
19. Middlesbrough – 28
20. Sunderland – 24
*Odds Courtesy of Bodog
Comments