Monday – 8th of May, 2017 – Prague – The organizers of Prague Gaming Summit have released a new press release about the upcoming inaugural event, which is going to be held between the 8th and 9th of June at Andel's by Vienna House Prague.
The announcement is about the 2nd day schedule of the seminar type conference and is an open invitation for 50 attending delegates.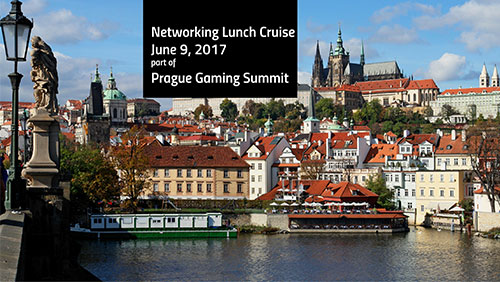 The Networking Lunch Cruise  is sponsored by EEGEvents and is going to be held on the 9th of June as part of Prague Gaming Summit.
The organizers invite you to spend your final day in Prague by visiting some of the most renowned sceneries has to offer and enjoy a dinner while you grab the last business cards of the participants.
You can enjoy Prague's historic sites while avoiding the busy streets from the utter peace and serenity of the river. From the deck of the boat you will see Prague Castle and Charles Bridge.
The boat trip will start at 12:00 and a shuttle bus will be provided from the official hotel to the dock. This is great opportunity to network and relax before heading off to catch your flight or train.
Be sure to RSVP and join the attendees by saying goodbye to old faces and new friends in a relaxing environment perfect for some final networking.
The Networking Lunch Cruise is an RSVP event and is limited to 50 delegates! Only registered delegates are allowed to opt for the lunch cruise.
RSVP Deadline is: 20.05.2017
RSVP link: https://www.eventbrite.com/e/networking-lunch-cruise-tickets-34415827667
Delegates can reserve their limited seats at an Early Bird Rate of 250 EUR(-50%) until 28.05.2017 by registering on the official website of the event: https://praguegamingsummit.eu/
…or by choosing your delegate package(delegate passes with accommodation at the official hotel) here:
For more details about the event, you can contact the organizers directly by e-mail on the following e-mail address: zoltan.tundik@eegevents.org or by phone on +40 726 388 370.
Make sure you check back for more updates about Prague Gaming Summit.
Comments